The perfect bedding brings comfort and style to any bed. Learn more about bedding sizes, fabrics, style, and care.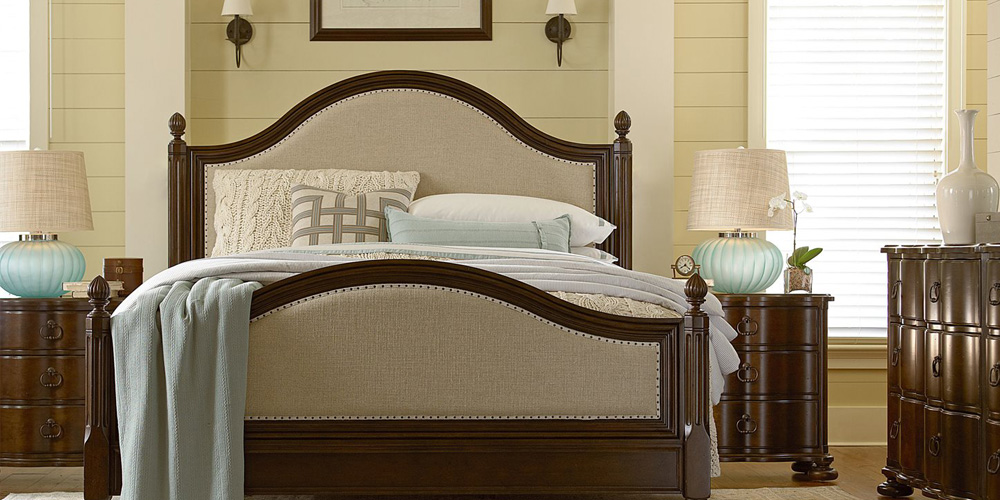 The perfect bedding can be the difference between getting a good night's sleep and a restless night. When styling your bed for any season, there are many aspects to consider for each layer of bedding. Quality, color, size, and fabric content are all factors that will influence the look and comfort of your bed. Here, learn more about bedding types, discover what bedding will be best for you, and finally get the sleep you need.
Bedding Sizes
For more information about mattresses and mattress sizes, read our Mattress Buying Guide.

Bedding Types
Bed Spreads
A bedspread is a general term to describe a fabric product that covers a bed. A bedspread will generally be the top layer of bedding, and (along with throw pillows and a bedskirt) determines the overall aesthetic of the bed. Bedspreads provide warmth and tend to be highly decorative. The four main types of bedspreads are comforters, duvets/duvet covers, quilts, and coverlets. Each bedspread type brings a varying level of warmth and aesthetic qualities.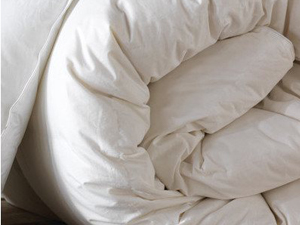 Comforter
Comforters are filled with polyester batting, down feathers, or a down alternative, and have a soft outer layer of fabric made from cotton, wool, silk or other comfortable fibers. These bedspreads are typically graded for warmth, weight, and fill power, with various grades corresponding to ideal use in different temperatures and climates. Comforters are warm, comfortable, and have a substantial weight and thickness. They can include highly decorative designs, from printed images to colorful patterns.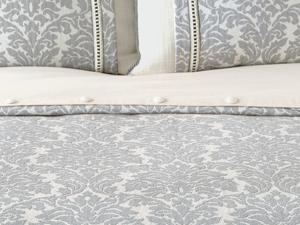 Duvet and Duvet Cover
A duvet and duvet cover combo is similar to a comforter, with the major difference that duvets can be inserted and removed from the duvet cover. Having a separate duvet and duvet cover enables more ease of cleaning, protects a high-quality duvet from wear and tear, and makes it easy to switch up the look of the duvet by swapping out the duvet cover. Duvets are generally made with down feathers or down alternatives, and they are usually white or neutral in color because are not visible on the bed. Duvet covers are highly decorative, and will oftentimes have buttons or a zipper to secure the duvet inside.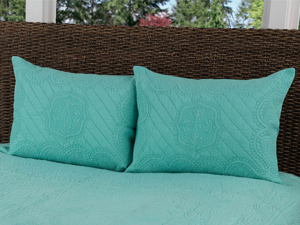 Quilt
Quilts are dense, thin bedspreads that consist of a woven top and bottom filled with a layer of batting. Quilts have traditionally been highly decorative, with colorful, patterned fabrics and intricate stitched designs. These types of bedspreads make an ideal addition to any bed during colder seasons.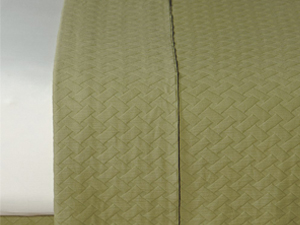 Coverlet
A coverlet refers to a lightweight, decorative covering for the bed. These bedspreads were highly popular in Europe in the 19th century, and are still used today. They are lightweight, highly decorative, and typically do not cover the full surface of the bed. Coverlets' function is largely ornamental, though they can provide some warmth. Coverlets are usually quilted or woven and are crafted from wool, cotton, silk, or other fibers.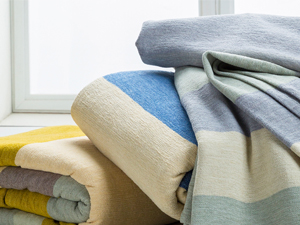 Bed Sheets
Bed sheets usually come packaged as a set, that includes a fitted sheet, top sheet, and one or more pillowcases.Things to consider when purchasing bed sheets are fabric, thread count, weave, and fit. For more information about bed sheets, read our Bed Sheet Buying Guide.
Bedding Accessories
Mattress Pad
Mattress pads are a multipurpose bedding layer that should be placed directly on top of a mattress and underneath a fitted sheet. Mattress pads vary in thickness and plushness. They provide extra padding, shield sleepers from allergens that may be living in a mattress, and protect mattresses from spills and stains. Mattress pads can also help to anchor bed sheets in place. They can be made from cotton, wool, and latex.
Pillow
Pillows are generally rectangular in shape, and may be crafted with natural fills, memory foam, synthetic fill, or poly-cluster fill. Bed pillows typically serve as the principal support for a sleeper's head. Pillows vary greatly in terms of size, thickness, and firmness. Selecting the best bed pillows depends largely on personal preference. Bed pillows can be purchased in standard, queen, king, European, and body sizes.
Bedding Care
Store extra sheets in a cool, dry space

Change your sheets every two weeks to prevent dust and allergen buildup

Use a pillow protector to protect your pillow from dust mites and extend the life of your pillow

Wash bedding with like colors and follow all cleaning instructions to extend the life of your bedding