Find the mattress features and firmness best suited to your unique needs. Learn more about mattress construction, sizes, and styles.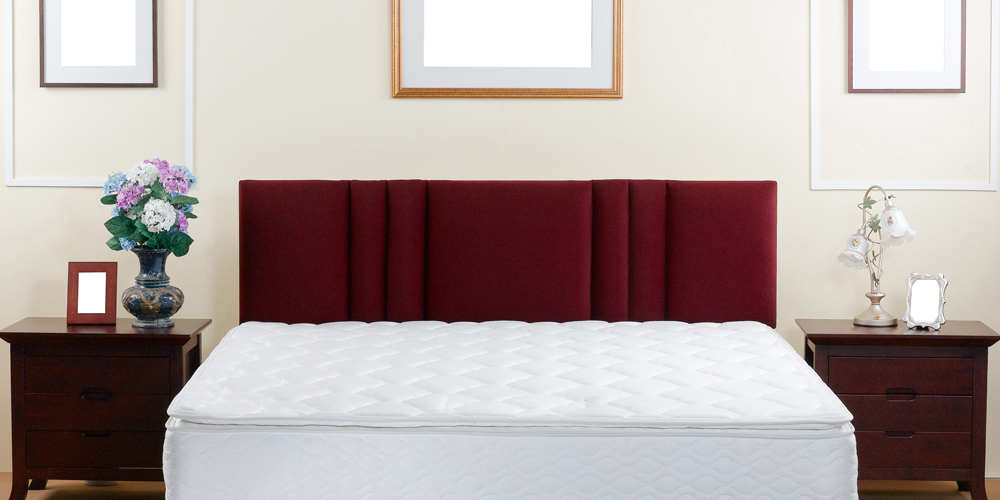 When selecting a mattress, it's important to choose a model that will fulfill your unique needs. Choosing the right mattress makes for a cohesive bedroom aesthetic, and can also be helpful in achieving a good night's rest. With so many different mattress styles to choose from, having a basic understanding of mattress construction and types can make selecting the best mattress for you a much more manageable task.
Mattress Construction
Coil Count
Refers to the number of coils in an innerspring mattress. The more coils a mattress has, the more support a mattress will offer.
Upholstery
Refers to the soft layers in an innerspring mattress, including: ticking, quilting, cushioning, and insulation.
Ticking
Refers to the protective outer layer of a mattress. Larger stitching patterns in the ticking usually indicate a softer mattress.
Quilting
Refers to the top layer padding of a mattress that gives the mattress its texture and breathability.
Insulation
Refers to the fiber or mesh that lies on top of the coils.
Cushioning
Refers to the middle layer of a mattress that determines the comfort and durability of a mattress.
Mattress Foundation
Standard Boxspring
Standard boxsprings measure between 7 ¼ - 9 inches high. A standard boxspring consists of tight, supportive springs constructed within a wooden frame.
Low Profile Boxspring
Low profile box-springs measure between 4 ½ - 5 ½ inches high and are ideal for thick mattresses or high bed frames. Similarly to a standard boxspring, these mattresses include tight supportive springs and a wooden frame.
Split Boxspring
Generally used in king and California king mattress construction, split boxspring mattresses include two separate boxspring mattresses, which can be moved and adjusted independently. This design lends itself to larger mattresses, which can otherwise be difficult to transport.
Frames
Mattress frames are used to elevate the mattress off of the ground surface, and are generally constructed from wood or metal. The frame provides support for the box spring and mattress and can include wheels for easier adjusting. Open frame designs make it possible to store boxes and other items underneath a bed, and also create separation between the mattress and dust and debris that may be on the floor.
Mattress Filling
The comfort of a mattress largely depends on the type of filling used in construction. Mattress fillings can include cotton, wool, polyester, hair, silk, cashmere, and mohair.
Mattress Sizes
38 inches x 80 inches

An additional 5 inches accommodates taller sleepers

Common stuffing deep seating back cushions
Mattress Material


Mattress Finishes
Quilting
Quilting refers to mattress design where an outer fabric is attached to the surface fillings. Quilting creates a decorative effect, and mattresses with quilting tend to have a smoother, flatter, softer surface.
Tufting
Tufting refers to mattress design where the top layer is sewed to the layers beneath it creating "peaks and valleys" on the mattress surface. Tufting helps to hold the fillings in place, and tufted mattresses tend to feel slightly firmer.
Side Stitching
Side stitching secures the edges of the innersprings to the sides of the mattress and adds to mattress edge support.
Vents
Air vents allow fresh air to circulate through the mattress, keeping the mattress cool and reducing odors.
Mattress Style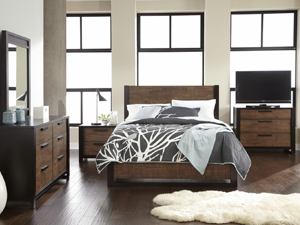 Platform Beds
Platform beds offer a modern, clean look. Some platform beds include drawers underneath the bed for added storage. Platform beds do not require a box spring.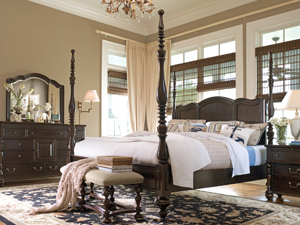 Poster Beds
Poster beds are simply bed frames with four posts that extend towards the ceiling.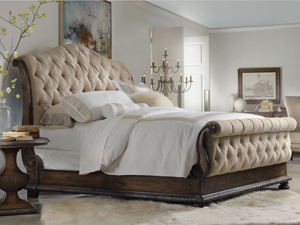 Sleigh Beds
Sleigh bed frames generally have a swooping footboard and headboard.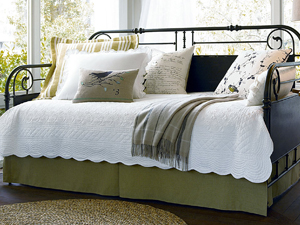 Daybeds
A day bed usually includes a twin sized mattress with raised frames on three of the bed's four sides. Daybeds appear similar to sofas, and can also be used as a bed.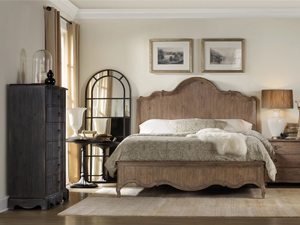 Panel Bed
A panel bed has a large panel headboard and/or footboard usually with molding.
Trundle Bed
A trundle bed includes a second bed that can slide out from underneath the top bed. The trundle bed is generally very low to the ground.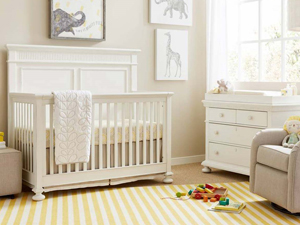 Crib
A small bed made for babies and toddlers with barred or lattice sides.
Mattress Comfort
Support
The purpose of a supportive mattress is to keep your spine straight by providing upward resistance. This can help prevent muscle tension, back pain, and other issues.
Edge Support
A mattress with strong edges can help to prevent sagging of the bed and rolling off the bed at night.
Firmness
Extra Firm
An extra firm mattress will provide a sturdy, supportive mattress with very little to no give. This type of mattress is ideal for people who sleep on their backs or stomachs.
Firm
A firm mattress will provide a sturdy, supportive mattress with some give, allowing the body to sink in slightly. This type of mattress is ideal for back, stomach, and side sleepers.
Plush
Plush mattresses are softer than firm mattresses, and are generally accompanied with thick upholstery as an extra cushion layer. Plush mattresses are ideal for sleepers with upper back or neck pain.
Ultra Plush
Ultra plush mattresses are the softest mattresses available, with sizable thick layers added to the top that allow sleepers to sink into the mattress.
Mattress Features
Pillow Top
A pillowtop is a a few inches of padding that is sewn onto the top of a mattress making the mattress itself even softer. Pillow tops can be made from several fiber and foam materials.
Hypoallergenic
A hypoallergenic mattress is ideal for people prone to allergies due to its ability to keep allergens out.
Adjustable
Adjustable mattresses allow for different sleeping and sitting positions.
Edge Support
Edge support allows sleepers to sleep close to the edge of the bed without the risk of rolling off the bed.
Temperature Regulation
Mattress manufacturers are beginning to incorporate different features to help keep mattresses cooler for sleepers. This is mostly related to memory foam mattresses as they are more likely to retain heat. Mattresses with this feature help reduce heat buildup throughout the night.
Mattress Care
Flip Your Mattress
Depending on what type of mattress you own, some mattresses can be flipped to even weight distribution and sagging of the mattress over extended periods of time.
Rotate It
If your mattress cannot be flipped, rotate it to vary weight distribution and pressure on the mattress. It is recommended to rotate your mattress at least four times a year.
Mattress Pad
Mattress pads can act as a protective covering from both dust mites and accidental spills. Waterproof mattress pads are recommended to those who are prone to spills.
Vacuum Your Mattress
Thoroughly vacuum your mattress at least once a year to reduce dust mites and allergens.
Changing Sheets
Changing your sheets on a regular basis will prevent dust mites and allergens from building up on your mattress.