A reading nook is a great place to unwind. Create a trendy space for yourself with just a few pieces for the perfect look and feel!
Every home -- and booklover -- needs a cozy reading nook. The perfect spot to relax after a long day, a reading nook is a trendy way to segment your space and add a touch of charm. Not to mention, the functionality of a reading nook makes it the perfect place to enjoy your favorite novel, take a nap on a rainy day, or even get some work done. Reading nooks are the perfect interior design project, even for beginners. They have a few core elements to make the space special and come together in a snap: an accent chair, an end table, a lamp or other unique piece of lighting, and a few blankets and pillows make the space truly cozy.
Oh, and don't forget the bookshelf!
We've put together a few tips to create the perfect trendy reading nook in your living room or bedroom, giving you your own personal spot to unwind.
All About Accent Chairs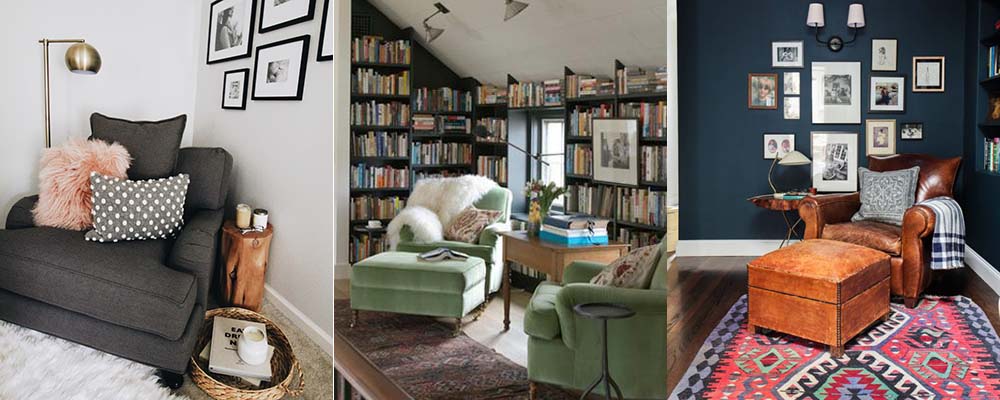 Photos: I Do Myself | Lushome | Wife in Progress
The accent chair in your reading nook sets the mood for the aesthetic of your space. Accent chairs are typically bold in pattern and color, but if you're going for a softer, hygge-like feel, you can opt for neutral colors as well. Given that you'll be reading (and likely napping) in this chair, it needs to be cushioned and comfortable. Your chair should be small enough to have a "nook" feel, but also large enough to ensure that you are seated comfortably, possibly with an additional throw pillow or two. You may also opt to include a coordinating ottoman to maximize comfort.
The accent chair in your reading nook doesn't necessarily have to be a typical armchair. Your nook is completely customizable and should be a reflection of your personal style and design preferences. Seating options like basket chairs and chaise lounges are a comfortable alternative to armchairs, and add their own unique flair to the space. Once you decide on a chair, its time to accessorize. Coordinating or clashing throw pillows add depth to the design as well as comfort to your chair, and a throw blanket (or two!) makes the space cozy, warm, and welcoming.
Top picks:
Envious End Tables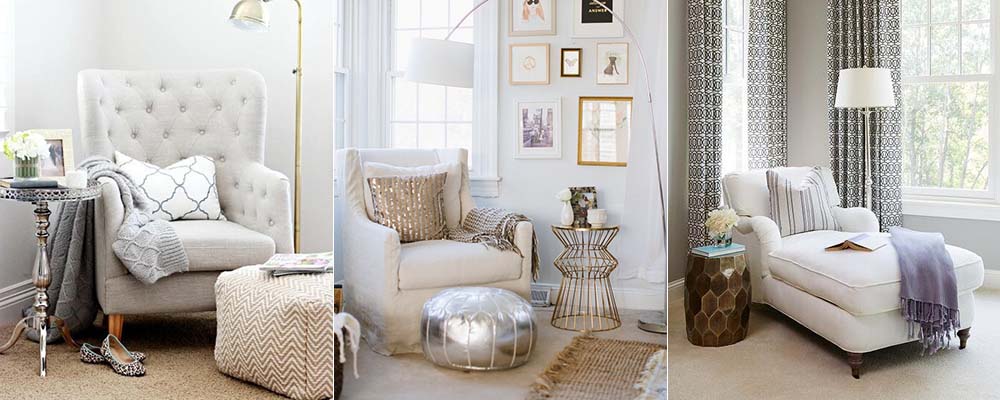 Photos: Hedonist It | POPSUGAR | Decor Pad
Every reading nook needs an end table, to hold your book, a drink, a snack, a lamp, or anything else you might need while you're cozying up to relax at the end of a long day. End tables are the perfect solution for small spaces, and can have a style all their own to give the nook an on trend, cohesive look. Match your end table with your chair of choice and bookshelf, and you'll have a gorgeous space worth bragging about.
End tables come in a variety of materials and shapes. Some also have drawers so you can store items in your nook, like pens or bookmarks. Decorate your end table with a plant or a candle and add your own unique flair.
Top picks:
See the Light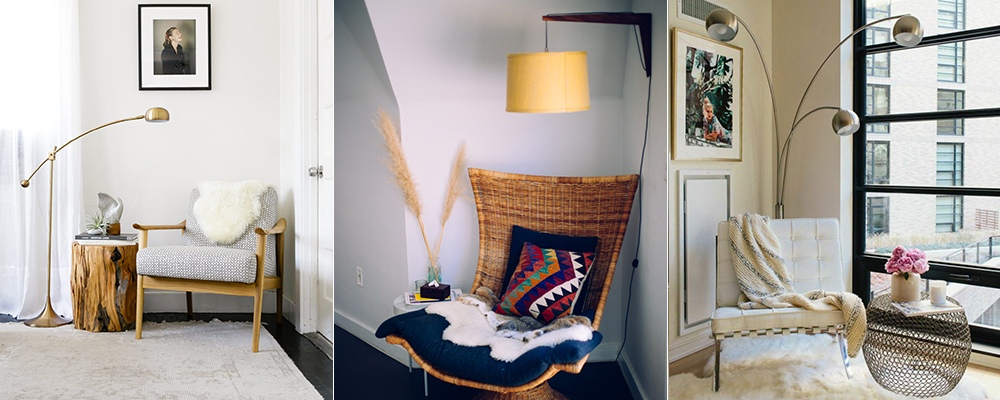 Photos: Decoist | The Jungalow | The Everygirl
Since you're going to be reading in your reading nook (of course!), lighting is very important. While ideally you would position your space in an area with plenty of natural light, like near a large window or skylight, there are also many artificial lighting options that can do the job and add a stylish accent to your space at the same time. If you include an end table in your reading nook design, you can choose a lamp to light your space and be placed on the table. If not, a floor lamp is a great option to place near your chair and light your space.
There are neverending options when it comes to lighting. Table lamps, floor lamps, wall lighting, chandeliers, and pendant lights come in a variety of different styles and finishes to fit your desired look.
Top picks: