Whether you are moving into a new space or thinking about redecorating your home, sprucing up your decor is always an exciting ordeal.
Whether you are moving into a new space or thinking about redecorating your home, sprucing up your decor is always an exciting ordeal. There is something exciting about creating an area that isn't only yours but also reflects who you are. After all, the design elements and the furniture that you purchase for your property can play a role in your overall health and wellness.
A home that you love is a haven wherein you can relax and truly enjoy your downtime. It is your refuge from all the stresses of the world. It is also a space where you can bond with the people that you love the most. It is an intimate location for the stories and anecdotes that would long be treasured. Moreover, a well-decorated home allows you to be productive. Thoughtful placement of trinkets as well as choosing the right pieces of furniture can help you achieve your goals.
With that said, redecorating and buying furniture should be tackled one room at a time. Truth be told, your living room is the first thing people see when entering your home. Often times, it is the only thing that guests see. It makes sense to start your project in this area.
If you are in the exciting process of redecorating, below are the five furniture essentials that could change the way your living room looks:
The Centerpiece: Sofa and Seating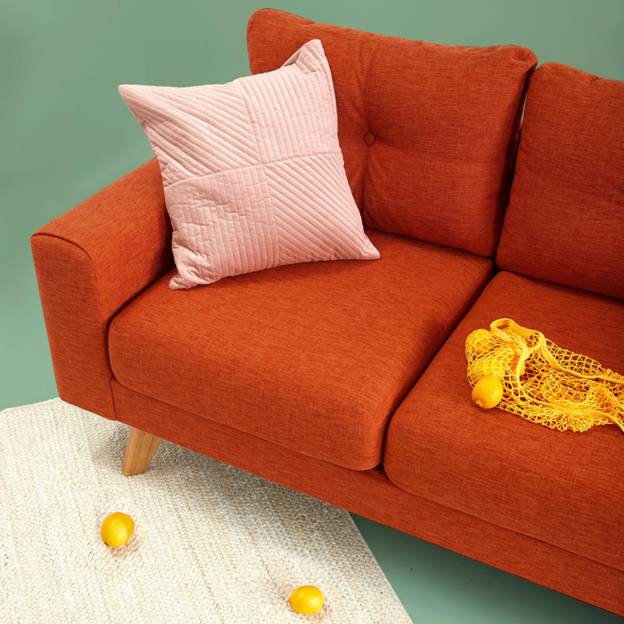 Arguably the most important pieces of furniture in your living, it makes sense to put a lot of thought on the seating options that you purchase for your living room. After all, the main purpose of the area is to entertain. The last thing you want is for your guests to be comfortable.
Nevertheless, we understand that not everyone has an unlimited redecorating budget. In buying your sofa, there are several things to be considered - the space you have, the number of guests you expect, and the overall feel you would like your living room to have.
Your sofa is the centerpiece of the entire space. It is where people converge and share stories. For most living rooms, the sofa is the largest piece of living room furniture that they have. With that said, consider the overall aesthetic before buying. Are you going for something classic? Do you want something modern? Is your style more boho? There is a sofa that would fit your style.
Moreover, in redecorating and deciding on your living room design, you also need to think about how many people you want to host and the space that you have. This is when you have to be realistic. In as much as it is great to have a sectional, placing that piece of furniture in a small studio apartment in the middle of New York isn't maximizing the space well. If you have limited space but enjoy having guests, consider buying a small sofa and adding floor pillows to your living room - win-win!
Let there be Light: Lighting
Aside from the sofa, lighting is also an important element in creating the living room of your dreams. Hosting parties in the morning and the afternoon shouldn't be a problem especially if your home receives natural light. In fact, the light from the sun creates a great backdrop to your living room.
However, whether you get natural light or not, ample lighting at night is an essential part of living room design. After all, no one would get to see and enjoy your sofa and other living room trinkets if they can't see them.
As a rule of thumb, unless you want your living room to look like office space, stay away from fluorescent overhead lighting. They are much too harsh, especially for a small area. Opt for lighting that is on the warm side.
Moreover, remember that your lighting fixtures are as much utilitarian as they are decorative. Buy lighting that matches the overall theme of your living room. Use your fixtures to decorate the area even further. Every room in your house should be a reflection of your personality. Even your lighting should show the kind of person you are.
Are You Not Entertained? Entertainment Center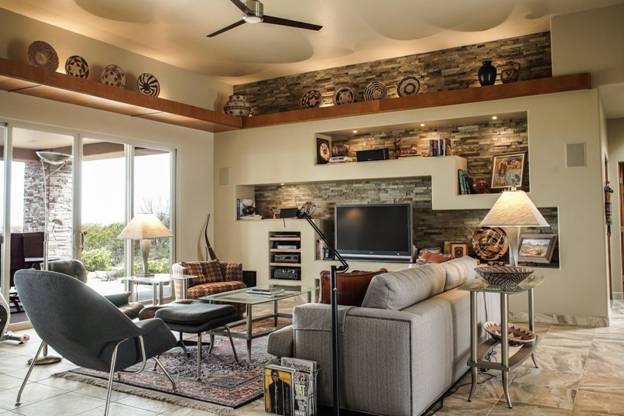 Most families' living rooms double as their media room and entertainment center with the television as the focal point. With that said, finding the right entertainment center that fits your living room design, as well as the space that you have, ensures that space is used to its full extent.
This a great time to bust out your measuring tape. Aside from the space you have, you must measure the television that you would place on the piece of furniture as well. If you live in a home that could accommodate a big entertainment center, then by all means! This furniture can also double as storage and display. Making this one big purchase makes more sense for a large area than buying separate smaller pieces.
Consequently, if space is tight, you always have the option to buy a smaller TV console or hang the TV on the wall. Just be wary of where you place your television. It has to be of a comfortable height and distance from your seating areas.
Your Heart on Your Sleeves: Display Cases
If you like to entertain, you probably spend most of your time in your living room. If you do, you might as well decorate it with pieces that you love. A display case is an essential piece of furniture especially if you own a lot of trinkets. These small decorative pieces can elevate the look of space whilst reflecting the personality of the owner.
Choose a display case that is sturdy enough to showcase your collection. If you own a lot of books, don't cheap out on a rickety stand. After all, these trinkets are important to you. Displaying them with utmost care should be a priority.
Using the things that you love and already own, not only brandishes your personality but also saves you a bit of coin on decorative elements. Because you make use of what you already have you can invest in buying a good display case instead.
Deck the Walls: Art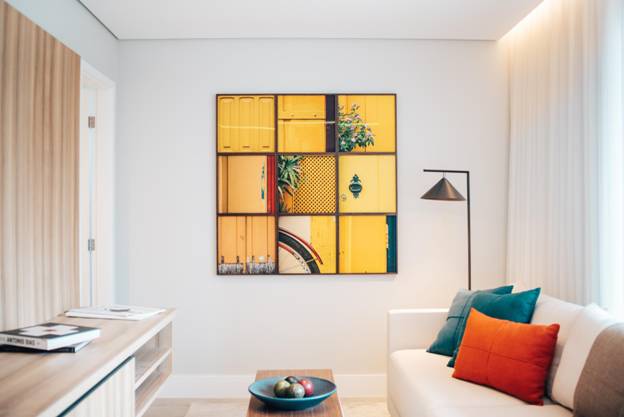 Nothing screams "this is a temporary home" more than bare and empty white walls. For living rooms, having expansive blank walls is uninviting. As a guest, you wouldn't want to be in an area that doesn't feel warm.
Similar to investing in a display case, having pieces of art in your living room doesn't have to be an expensive affair. In fact, you can just use the elements that you already have. For instance, the heirloom of a blanket your grandmother gave can be used as a tapestry. Moreover, you can also frame the covers of your favorite records and hang them up!
If you have to buy, there are plenty of artists that sell digital prints that you can print yourself. You can deck your living room with a gallery wall without wreaking havoc on your budget.
Redecorating your living room is a fun and enjoyable project. You don't have to spend more than the essentials above. Adding these five pieces of furniture in your space would allow you to have a living room that is perfect for entertaining the people that you love most.
So go ahead, have fun, and let your creative interior design juices flow!