Spring is right around the corner. Surely, most of you would agree that the first few weeks of the season probably have the most beautiful days of the year.
Spring is right around the corner. Surely, most of you would agree that the first few weeks of the season probably have the most beautiful days of the year. As the new year, spring is a great time for a change. Flowers are blooming, the sun is finally shining, and the universe is just waiting for the better and more beautiful version of you. One of the best ways to make a change this season is by sprucing up your home.
Since spring calls for spring cleaning, why not add this season's elements into your home? Redecorating can do wonders for your mood and productivity. Besides, who doesn't want a home that truly represents their personality? Since spring is all about making it through the cold and gloomy winter, a pop of color in your living room is in order!
Truth be told, bold colors can be daunting to work with. There is a fine line between unique and quirky and going completely overboard. Nevertheless, you can find everything you need to know about working with bold interior colors for your living room below. You deserve a vibrant home!
Choosing the Right Colors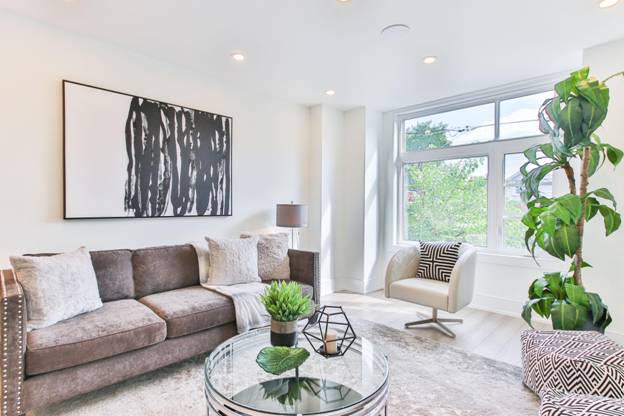 There is no denying how important interior color is to the overall design of your home. It can affect and totally change the vibe of any space.
Think About the Aesthetic Your Are Going For
Color can play a role in evoking an ambiance to any given room. Different colors play up different moods. It is important to consider the vibe you want your living room to radiate.
If you are the kind of person who likes to entertain and is the life of the party, bright warm colors are perfect for your living room. These colors would help stimulate the conversation and keep gatherings going. Bolder colors give off a more sociable feel, while cool neutrals are seen to be more formal. With that said, if you plan to host formal events in your living space, the spring interior color that you choose should be a little bit subdued.
Pick a Palette, Not Just One Color
One of the biggest mistakes people make when decorating with color is choosing just one without any regard for how everything else would jive with each other. There isn't anything wrong with going for monochromatic. In fact, with different hues and textures, this aesthetic can result into a clean and elegantly designed living room. However, if there isn't any difference in hues and saturation, your living room would look more like an acid trip than anything else.
You can pick a focal spring color for your space. But don't forget to choose complementary colors to go along with it. This is the perfect time to bust out the color wheel. Opposite colors work boldly together, while colors next to each other create a more subtle look.
Consider Lighting
Colors, especially in interior design, show up differently in varying lighting. For the most part, the truest colors can be seen under natural light. Consequently, fluorescent lighting lends a cooler tone to color while incandescent lighting fixtures give off a warmer hue.
With that said, consider the lighting your living room enjoys before picking a color palette. If it receives tons of natural light, a bold, bright color next to a window might be a little too much. Likewise, painting a wall blue in a room with fluorescent lights can make the area look very formal and cold - almost like an office building.
Considering the light source enables you to pick the best color for the kind of living room that you have.
Pay Attention to Function
Again, color can affect the overall vibe of a room. If you want your living room to be a relaxing oasis, staying away from bright spring colors should be your first recourse. Likewise, if your receiving area doubles as your office, it doesn't make sense to pick a dreary color to accent space. Doing so might make the room look gloomy thus inhibiting you to be productive.
In as much as design needs to be considered, your living has to be as beautiful as it is functional. Function means differently for different people. Determine yours first before choosing a color palette.
Creative Ways to Inject Spring Colors in Your Stylish Living Room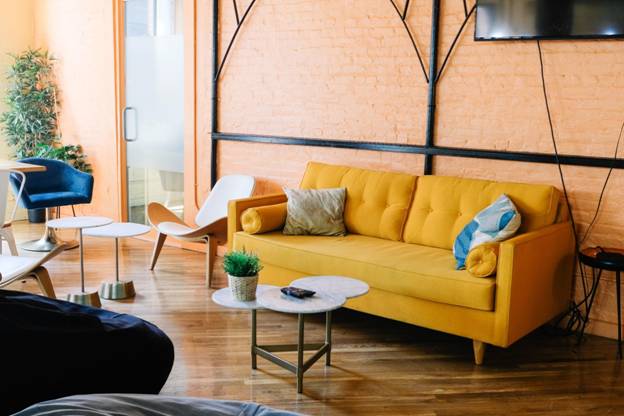 Now that you have an idea on how to pick a color palette for your living room, it is time to learn where to place these colors. Remember, just because your favorite color is pink doesn't mean that your entire living room should be Barbie's dream house. At the end of the day, it is all about balanced.
Make an Entrance
If you are new to using bold spring colors in your home, it is understandable to be nervous about painting an entire wall. It actually takes more than just splattering paint in order to do a good job.
For newbies, one simple but impactful way to incorporate color into your home is by painting your door. Nothing says hello and welcome better than a boldly colored door. It isn't as big a commitment as painting a whole wall but it does make your receiving room more inviting. It is also your chance to stand out from every other home in your neighborhood. Who doesn't want to be known as the lady with the bright, red door?
Walls that Pop
When working with bold colors, it is advisable to use it as an accent. If you know your way around DIY projects, having a statement wall in your living room can be a great design move. Draw inspiration from the colors of spring and choose a color that is warm and inviting.
Since this wall would probably become the focal point of your living room, choose art that would compliment it. Make the wall the backdrop to your sofa or sectional. Again, as discussed above, the color wheel is a good means to learn which colors go together.
Step on It
Painting your living room's floors might not be as popular as a statement wall but this design trend is slowly becoming in vogue. Of course, this is for good reason. In as much as the impact an accent wall can give to your living room, painting your floors can also change the look of your space.
If you are feeling feisty and adventurous, choose a bright spring color. This way, you no longer have to spend on area rugs to walk on sunshine!
Try it on the Furniture
For people who are renting, painting your walls, your door, and your floors might cost you your deposit. However, that doesn't mean that you have to settle for boring 'ol neutrals. One good way to incorporate spring interior colors to your living room is by choosing colorful furniture.
Your sofa is probably the biggest piece in the whole room. Picking a bright color for this furniture can instantly inject that pop in your living room. Likewise, you can also choose bold art for your walls. Filling up space and creating a gallery wall can easily mask a drab neutral wall.
Spring is the season of rebirth and change! The flowers are blooming and everything looks beautiful. Why not extend nature's beauty onto your living room by incorporating spring colors to your stylish living room design? The tips and tricks above would allow you to bring the outside in and keep the spring aesthetic all year round. It is time to do color right and in all the right places!