Quick and simple updates that will help you achieve a bedroom that matches your age.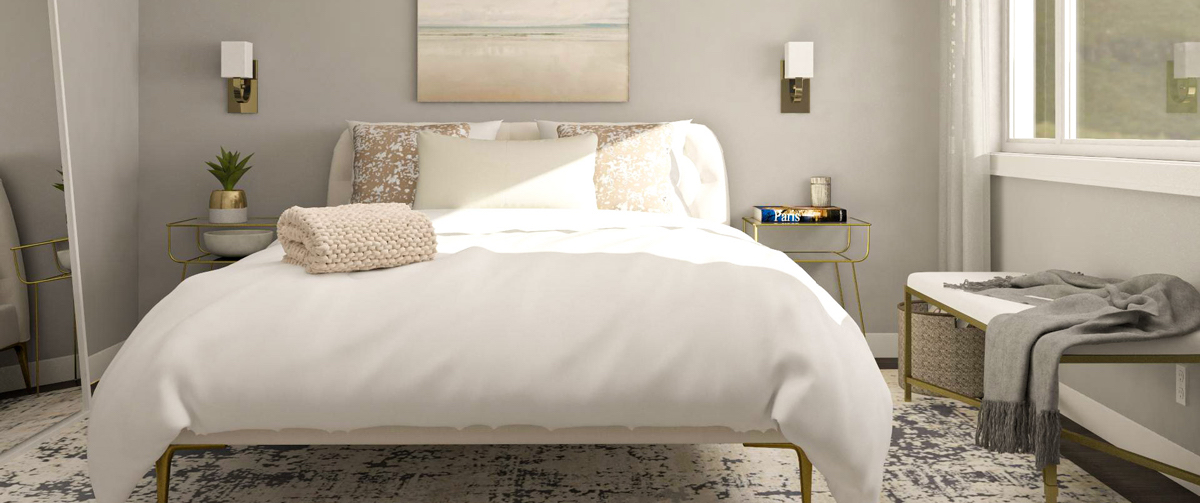 If you're anything like us, your bedroom is a serene sanctuary that you can't wait to come home to at the end of the day. But when you have a small bedroom, it can be difficult to achieve a sophisticated style that matches your age. Here, we're sharing five simple tips that will completely transform the look of your bedroom into the grownup space you're craving (no matter the size of your space or your budget).
Play up symmetry
Most every chic bedroom donning the pages of Architectural Digest or making the rounds on Pinterest has one thing in common: a symmetrical furniture arrangement. In its simplest iteration, this means a pair of nightstands flanking your bed topped with matching lamps, but that isn't the only styling option. Consider adding a statement-making art piece above your bed to ground the space, making sure it's secured with earthquake-proof mounting. A pair of art prints is another option that can help balance the space around your bed. If space comes at a premium, you can install some floating shelves on either side of the bed that won't take up any of the floor's square footage. A bench at the end of the bed is another option to adultify the room and add some extra seating in a space that usually goes unused.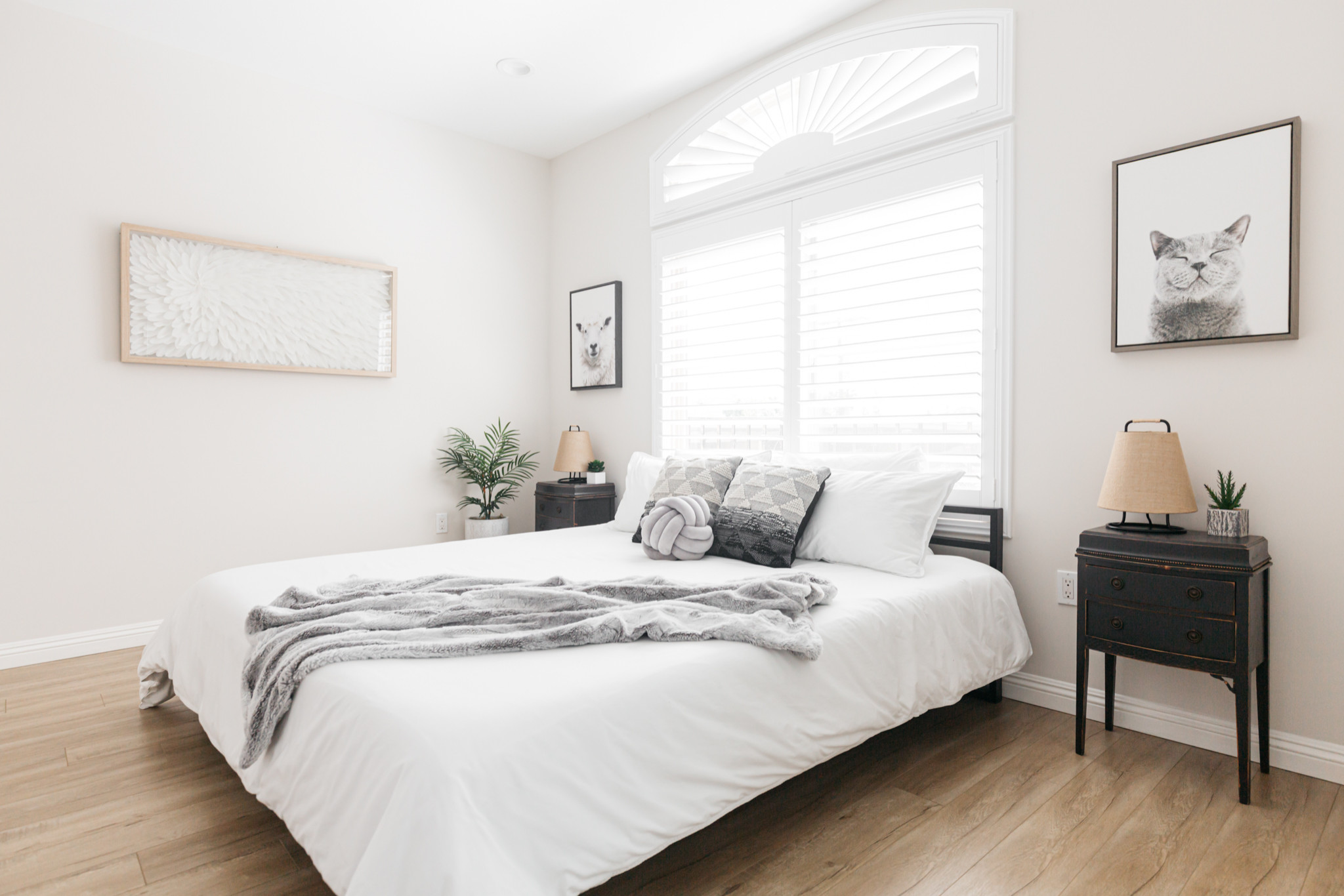 Find your style
A bedroom that's part modern farmhouse, part bohemian, and part industrial will only appear cluttered and unfocused. When it comes to styling a space (especially one that's small) it's best to narrow your efforts onto one aesthetic to bring cohesion and a calming energy. As a bonus, this can actually make the room appear larger because your eyes won't be drawn in a dozen different directions when you open the door. Once you have your style locked in, it will be easier to search for furniture and decorative pieces that add to the look you're trying to achieve. You should go with whatever style speaks to you, but if you're unsure where to start, organic minimalism and Scandinavian design are two of our favorite styles that both feature neutral palettes and clean silhouettes that lend themselves to making a small space appear larger.
Draw the eye up
If you don't have a ton of floor space to work with, shift your focus to the vertical element of your bedroom. A tall headboard will draw the eye up and be a great statement piece (not to mention give the space a decidedly adult leaning). And with your headboard as the focal point, the rest of the room will need minimal styling to feel finished. Tall and thin plants like a fiddle leaf fig or olive tree plant are another addition that introduces an organic element and creates height in an instant. You can think about mixing in wall art or tall furniture pieces like a dresser or bookshelf that lend themselves to making the room appear larger. If you own your own home or your apartment building allows you to repaint your walls, consider breaking out the rollers and refreshing your room with a fresh coat of white paint. A lighter wall color is one of the most sure-fire ways to make a small space look larger.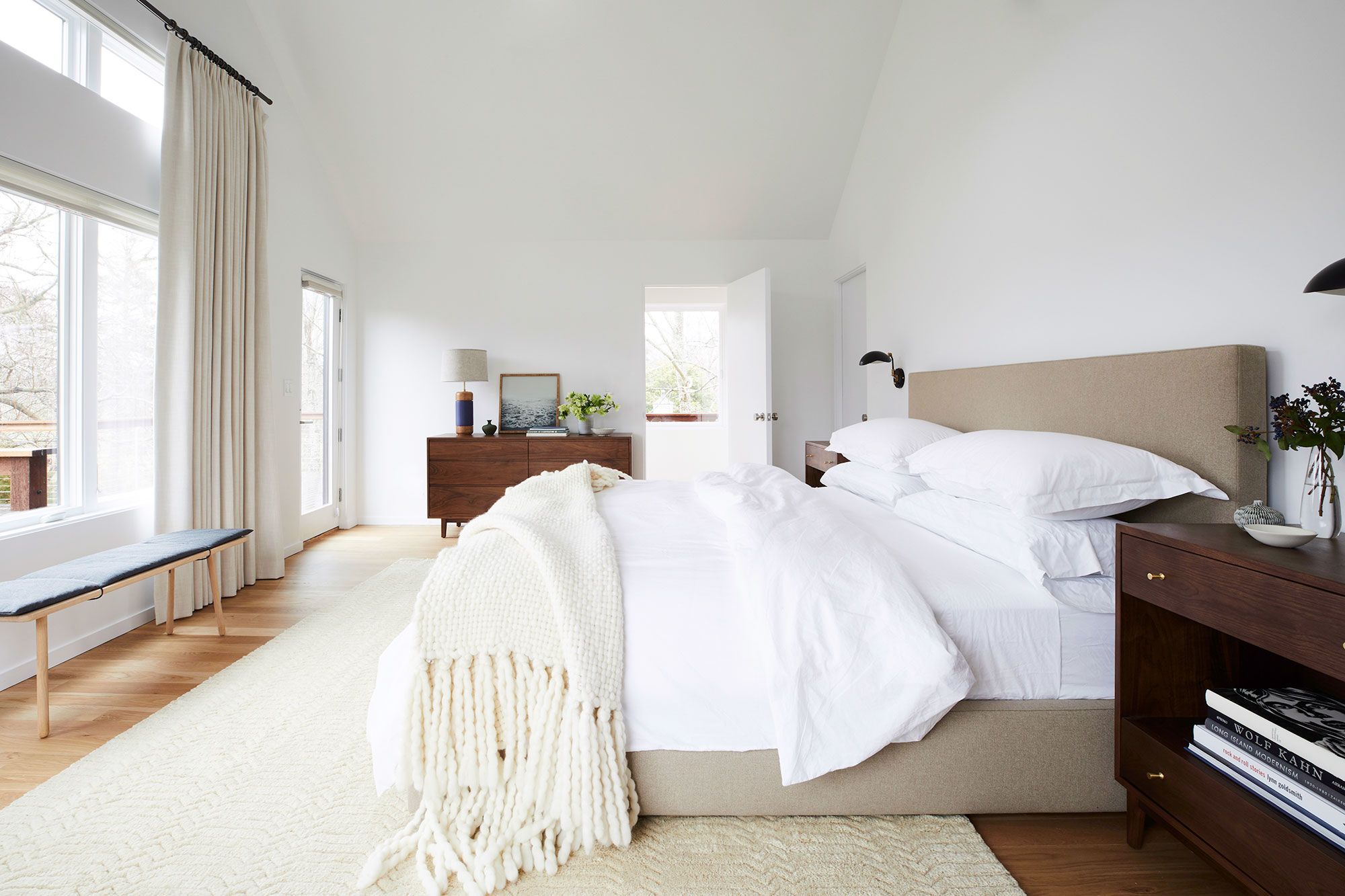 Don't push your bed in the corner
Your childhood bed was probably pushed in the far corner of the room (to make more room for activities), and when your adult bedroom is on the smaller side, it's a logical choice to mimic the layout that worked so well for you in adolescence. But this design choice could actually be making your bedroom look less grown up or even smaller than it actually is. When you're arranging the furniture in your bedroom, prioritize situating your bed against the wall that leaves the most space to walk around all three of the bed's sides. This will instantly make your bedroom appear more mature, and as a bonus it will be much easier to make your bed in the morning.