After months of cold — and over a year of self-quarantine and social distancing — many of us are more than ready to welcome happier times and warmer weather into our lives.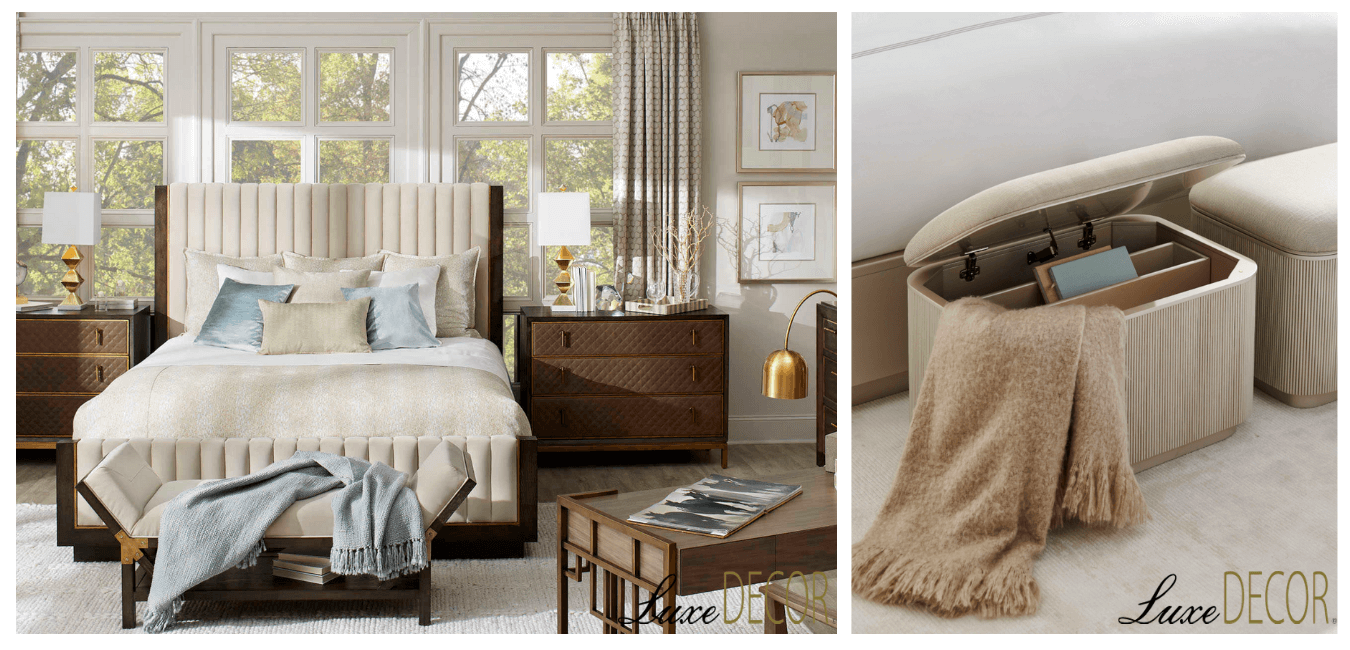 (Left) A.R.T. Furniture Woodwright Ivory / Brown Robie Accent Bench and (Right) Caracole Classic Matter Pearl Accent Bench from LuxeDecor
Though we are mentally prepared to entertain family and friends this Spring and Summer, however, our homes might not yet be ready to receive guests. Months of isolation over the last year during the COVID-19 pandemic led many to take up new hobbies, renovate their homes and adjust their ways of life. Unfortunately — as we online shopped, pined for projects and engaged in new activities — we might also have added a bit more clutter to our indoor spaces. Thankfully, the period of "Spring cleaning" is upon us — arriving just in time to help us sort out our spaces before game nights, backyard barbecues and luncheons fill our calendars. Spring cleaning — that annual ritual of decluttering we all engage in — is not only helpful for our homes, but is good for the heart and mind! Follow below for benefits of Spring Cleaning and lots of stylish storage solutions.
Wellness Benefits of Spring Cleaning
Mental & Emotional Benefits of Spring Cleaning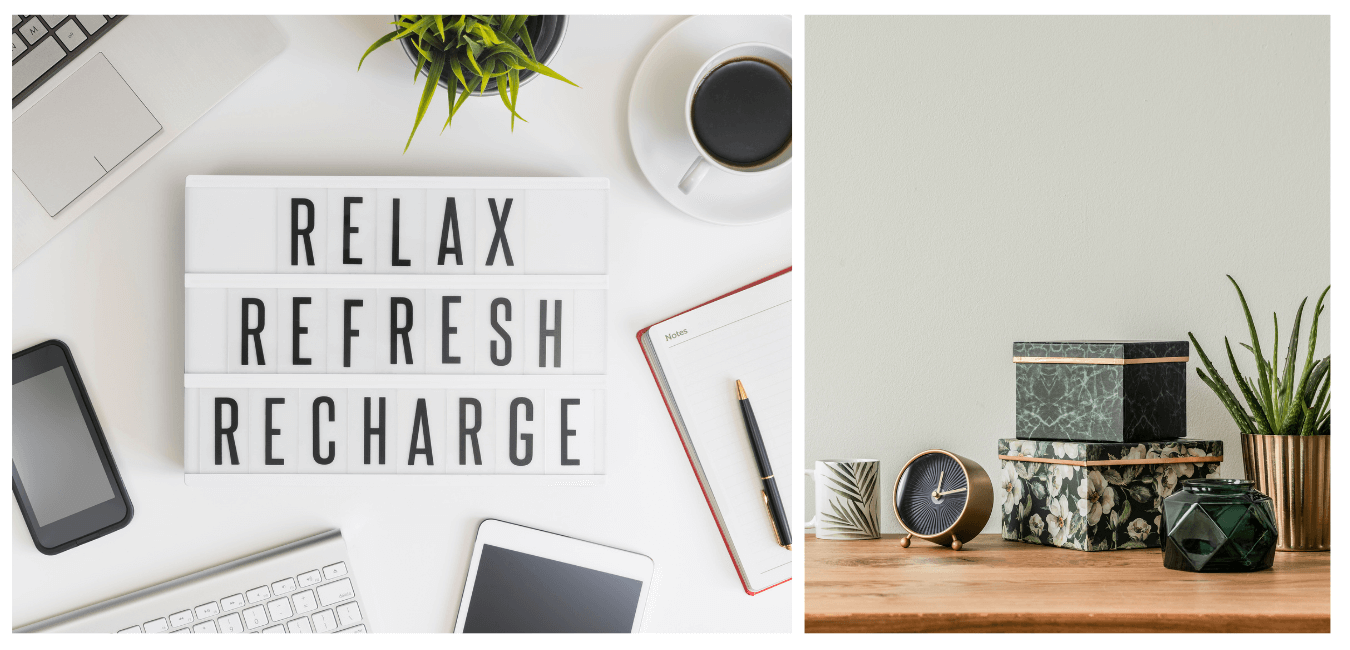 Removing clutter and reorganizing can feel refreshing for a home's layout and interior design program but also for the people who live there. In a recent article for Psychology Today, Dr. Jonathan Fader Ph.D. outlines "The Psychology of Spring Cleaning." Dr. Fader writes that — of course — "spring cleaning has the obvious benefits of an organized closet, a sparkling counter top, and possibly more open spaces." However — notes Dr. Fader — "more importantly, it is associated with improved mood, decreased stress, and heightened creativity."
Clutter within the home can create and compound stress, explains Dr. Fader. In fact, "most Americans believe that home organization and cleanliness are among their top five stressors." Women are particularly at risk of clutter-caused stress, as they have "shown to have chronic levels of cortisol, a stress hormone, if they perceive their homes as cluttered." Limiting clutter reduces the chance that this stress hormone is released and the mind is paralyzed. Creating a space free of litter and junk can also encourage additional healthy habits, notes Dr. Fader. Psychologists have reported "seeing clients who take charge of cleaning and organizing also take charge of their general health, especially their weight."
Physical Benefits of Spring Cleaning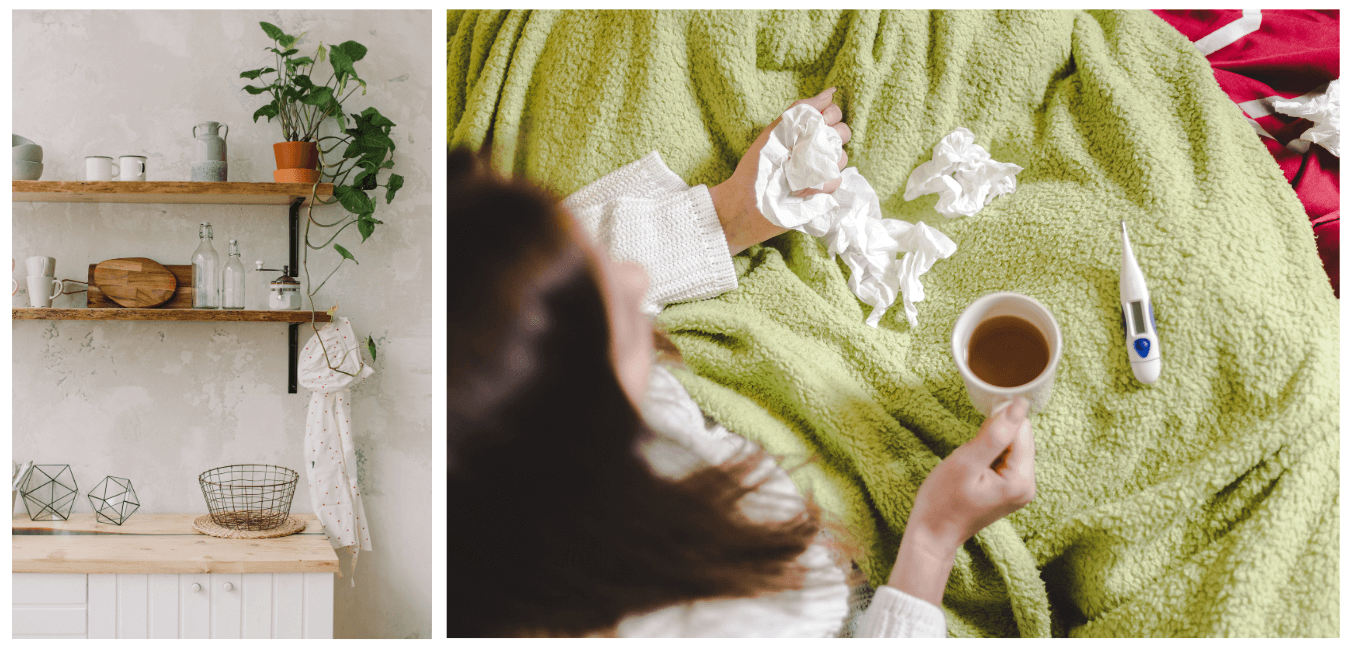 According to Whitney Akers and Dana K. Cassell in their article "Here Are 5 Ways Spring-Cleaning Can Make You Healthier" for Healthline, wellness benefits of spring cleaning are not solely relegated to the psychological. Akers writes that cleaning one's home from top to bottom actually has the capacity to "strengthen your immune system" by ridding the space of toxins. Keeping one's home clean — and swapping out dust collecting winter garb like heavy drapes — can reduce the concentration of allergens swept in by Spring winds. However, reducing the number of allergens within the home is not the only physical health benefit of spring cleaning. Whitney Akers notes that "beyond keeping allergies at bay, a clean house can help you breathe better by preventing respiratory issues and supporting a healthy immune system." Spring is the perfect time during which to completely overhaul your cleaning routine, note Whitney Akers and Dr. Adrian Cotton of Loma Linda University Health. This is because — notes Dr. Cotton — "when your house isn't clean, it can gather pollutants — especially during the winter months.'"
Not only can cleaning support your immune system and limit the accumulation of allergens like mold, pet dander and pollen., but it can also prevent illness. Akers writes that "cleaning things you touch a lot — or several people use often — can help you avoid illness and minimize the spread of viruses and bacteria." Foodborne illness is common when one does not clean surfaces hosting raw meats or eggs properly. One can prevent this by "keeping surfaces and sinks and items such as cutting boards clean."
Spring Forward With These 3 Stylish Storage Solutions
#1 Create Hidden Storage Space with a Platform Bed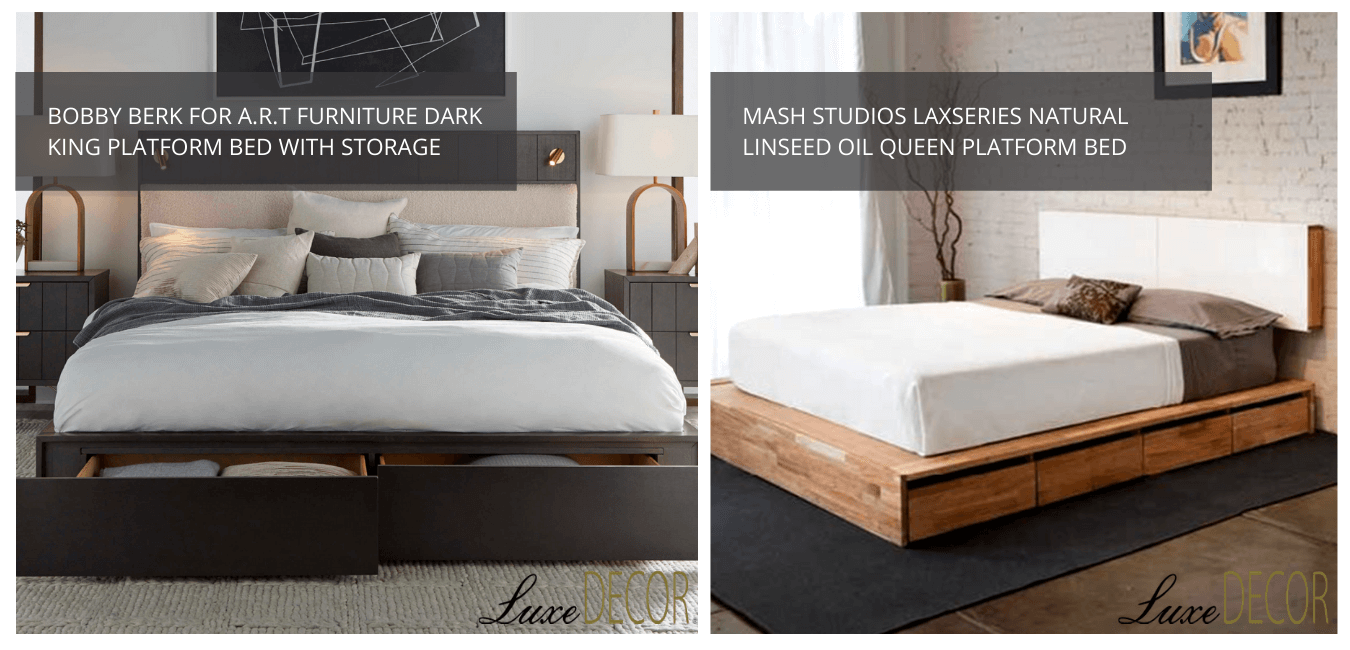 (Left) Bobby Berk for A.R.T Furniture Dark King Platform Bed with Storage and (Right) Mash Studios Laxseries Natural Linseed Oil Queen Platform Bed
Of course, the primary function of a bed is to provide a comfortable and supportive place in which to sleep and rest after a long day. However, there are a few upgrades available that can seamlessly transition a bed from single-purpose piece to multi-functional space-saver. Platform storage beds with either a lift-up mechanism or pull-out drawers offer a number of under-mattress cubbies for off-season clothing or linens. In children's bedrooms, they provide space for toys and additional daily-use items that would otherwise consistently litter the floor. If furnishing a bedroom short on square footage — perhaps in a studio apartment or accessory dwelling unit — platform storage beds make even more sense.
With nearly a foot of vertical storage space and more than thirty square feet — on average — of later storage space, platform storage beds eliminate the need for an armoire, shelving, cabinets, closet or chest of drawers. In his article "Are Storage Beds A Good Idea?" for BedGuru, Carl Walsh writes that "if you're not a fan of clutter or you're living in a small apartment, a storage bed is the ideal space-saving solution." For a chic, modern home lacking storage, we love the Bobby Berk for A.R.T Furniture Dark King Platform Bed with Storage and Mash Studios Laxseries Natural Linseed Oil Queen Platform Bed from LuxeDecor.
#2 Swap Stationary Shelving for a Mobile Filing Cabinet in Your Home Office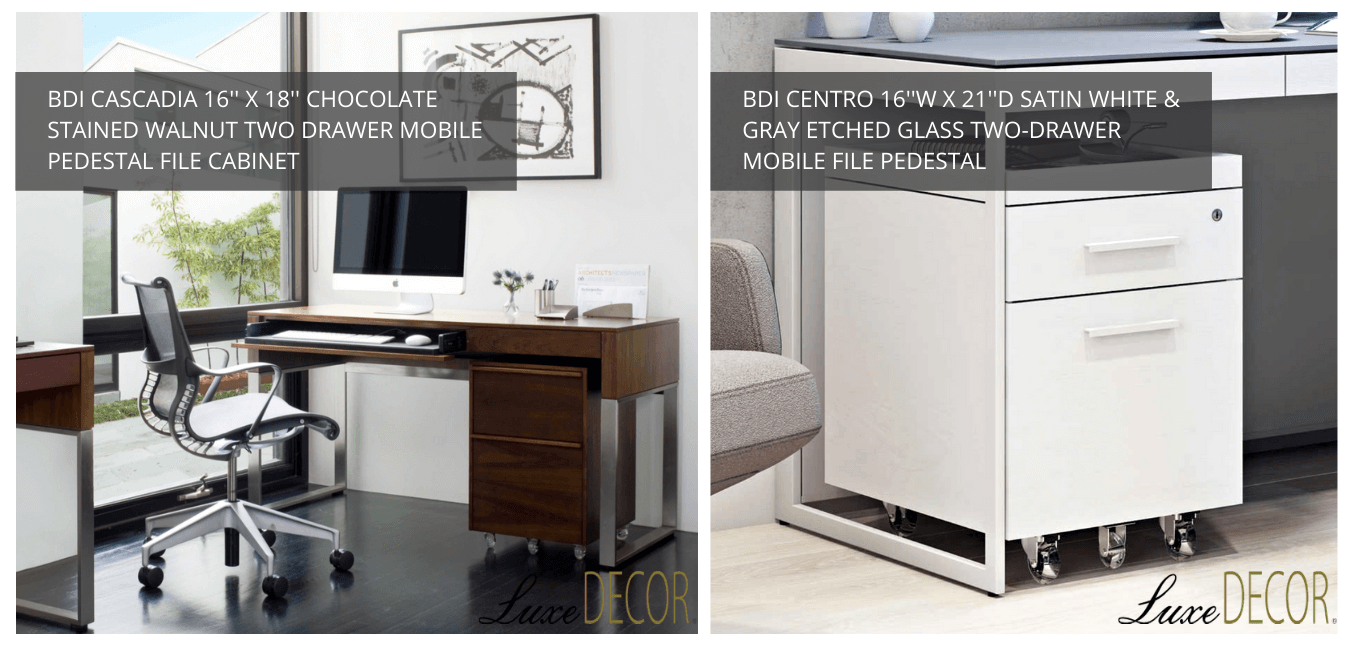 (Left) BDI Cascadia 16'' x 18'' Chocolate Stained Walnut Two Drawer Mobile Pedestal File Cabinets and (Right) BDI Centro 16''W x 21''D Satin White & Gray Etched Glass Two-Drawer Mobile File Pedestal from LuxeDecor
While filing cabinets are certainly necessary for the remote worker clocking hours at home, they are often unattractive and physically obtrusive. Mitigate this lack of versatility and aesthetic quality by opting for an alternative, stylish storage solution instead. Consider mobile filing cabinets with low caster wheels and slim profiles. We love the BDI Cascadia 16'' x 18'' Chocolate Stained Walnut Two Drawer Mobile Pedestal File Cabinets from LuxeDecor for its streamlined design and classic color scheme. Another mobile cabinet we love is the BDI Centro 16''W x 21''D Satin White & Gray Etched Glass Two-Drawer Mobile File Pedestal from Luxe Decor. Both fit easily under any desk or credenza.
In her article "28 Storage Ideas for Your Entire Home" for The Spruce, Elizabeth Larkin recommends always choosing square cabinets and containers over rounded or curved storage. This is because "unless you have open shelving, square storage containers are always a better option." While round containers "are less space-efficient and never fit flush against a wall," square or rectangular containers "maximize space."
#3 Position a Pretty Bar Cart Wherever You Need Extra Storage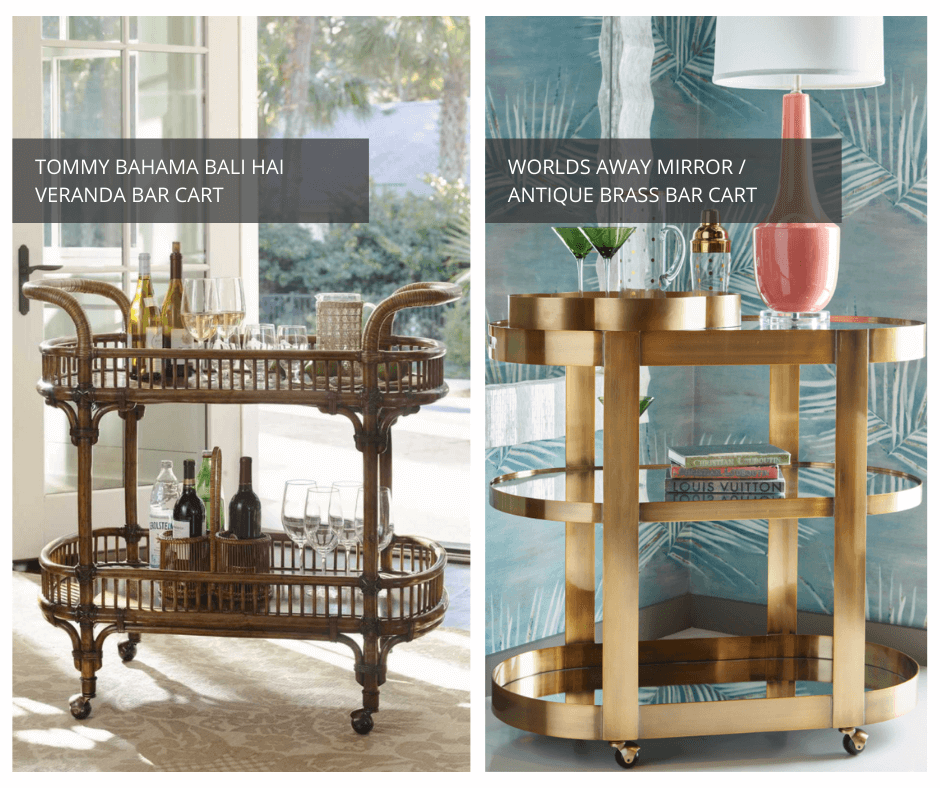 (Left) Tommy Bahama Bali Hai Veranda Bar Cart and (Right) Worlds Away Mirror / Antique Brass Bar Cart
In her article "30 Genius DIY Storage Ideas Your Home Needs Now" for House Beautiful, Senior Editor Hadley Mendelsohn outlines the benefits of stylish storage solutions that can transition from room to room. She recommends "rolling up a cart" whenever extra storage is needed — whether in an entryway, a kitchen, a great room or a home office. Bar carts are especially well-suited for storage in apartments and other rented homes in which installing additional storage is prohibited or would be difficult. Instead of screwing shelves into the wall, Mendelsohn suggests renters and homeowners alike "roll up a tiny bar cart or étagère to give your linens a home."
Better yet, writes Mendelsohn, bar carts are also "a good place for flowers to freshen up a guest bathroom or powder room." Bar carts offer stylish storage solutions in the form of multi-level organization hacks. In fact, the top-level of a bar cart in the bathroom can be used "for towels and soap and the other for products used during nighttime rituals." Whether your home aesthetic is Grandmillennial and Granny Chic or sleek and contemporary, bar carts offer versatile and stylish storage for any space. We love the Tommy Bahama Bali Hai Veranda Bar Cart for Bohemian-inspired interiors and the Worlds Away Mirror / Antique Brass Bar Cart for glamorous, Old Hollywood chic spaces.
Additional Storage Ideas for Crowded Interiors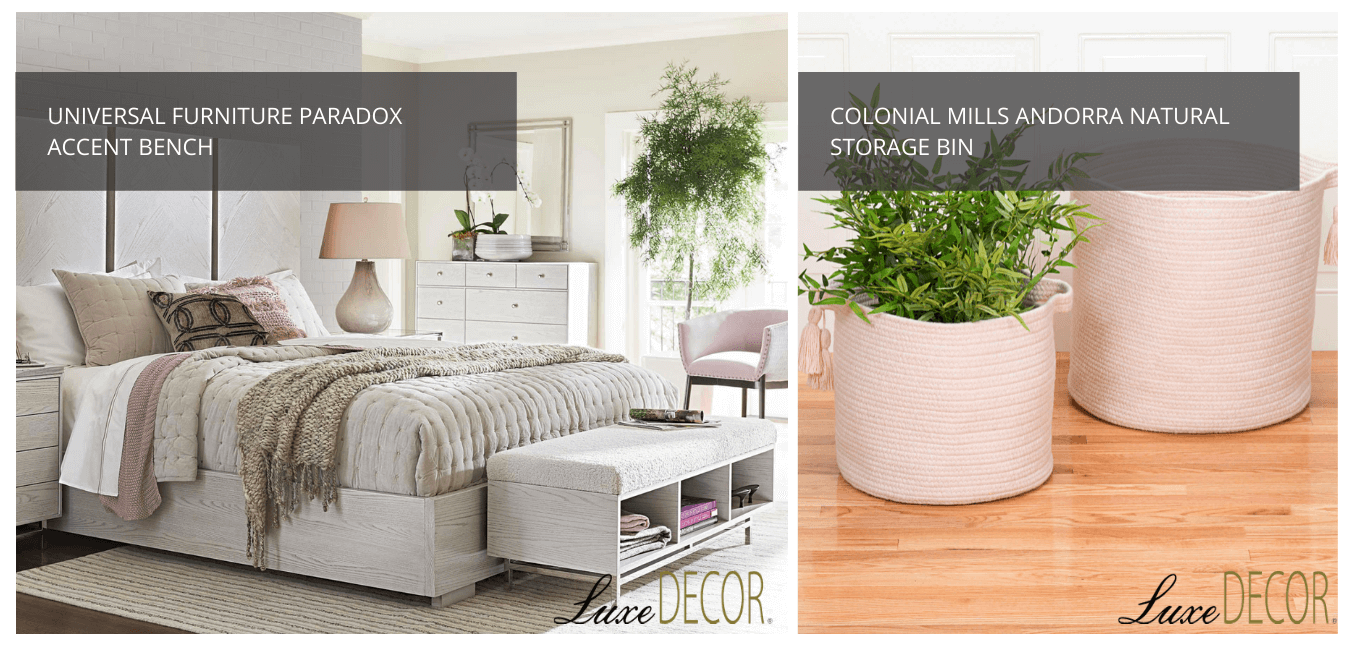 (Left) Universal Furniture Paradox Accent Bench and (Right) Colonial Mills Andorra Natural Storage Bin in Natural from LuxeDecor
Though the three stylish storage solutions listed above are easy ways to add extra storage to your space, we hope to leave our readers with a few more ideas for each room in the house. For the entryway, consider adding a hall tree or a credenza with storage baskets beneath. Placing a bowl on the credenza's tabletop or screwing hooks into the wall provides a spot for keys and garage openers. For the living or great room, consider a modular coffee table with a shelf, rack, drawer or organizer. We also love the idea of a lift-top ottoman for magazines, books and throw blankets. In the bedroom, opt for a storage bench or bookshelf headboard.
In a small-space laundry room, consider over-the-door storage such as wire racks or cloth organizers with a series of cubbies for further stylish storage solutions. For the kitchen, we love a suggestion offered by Jessica Bennet in her article "17 Simple Storage Projects You Can Accomplish This Weekend" for Better Homes & Gardens. Bennet recommends stylish storage solutions like attaching a magnetic strip "to a wall or the inside of a cabinet door to quickly access those easy-to-lose metal items." This tip is also perfect for bathrooms and vanities, as they can grab "other small items like lipsticks and brushes." For more space-saving tips, stay tuned for future posts from LuxeDecor!