The open concept interior has demonstrated remarkable staying power. The plan that typically combines entryway, kitchen, living and dining room into one "great room" has dominated home design for decades. Why?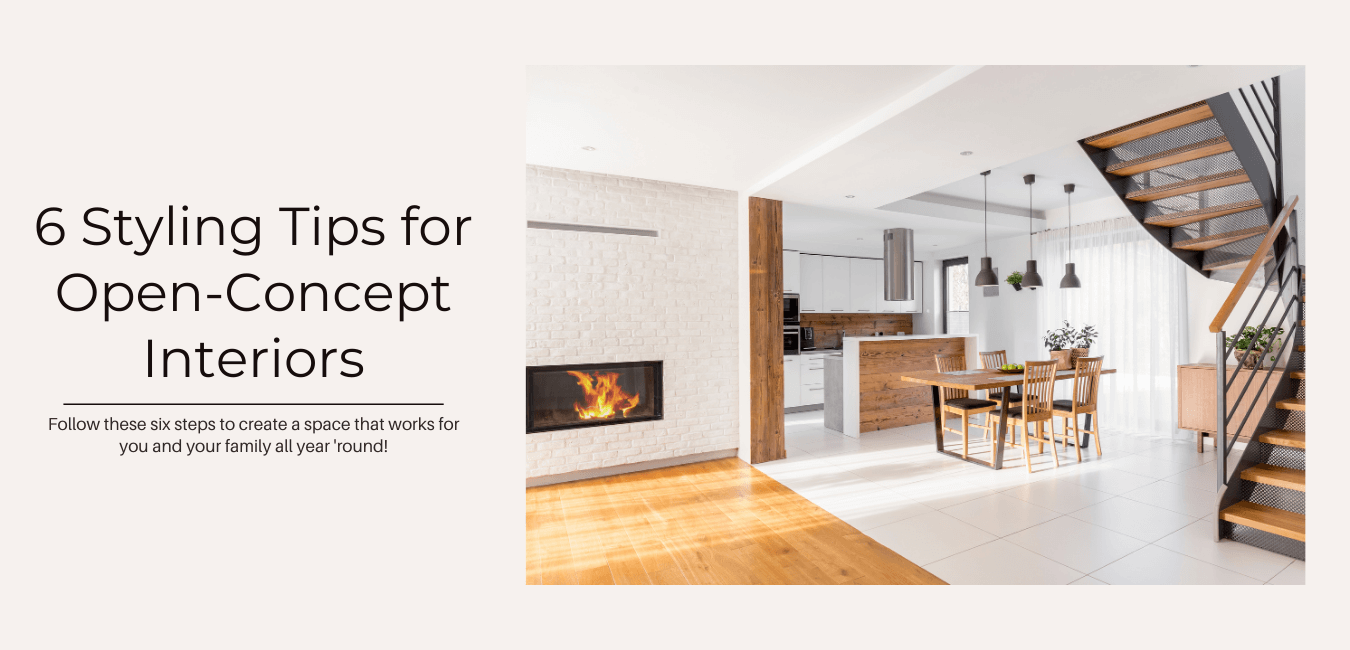 In some ways, designing around a large open floor plan can be just as daunting and just as challenging as decorating a small, cramped space. Open floor plans — also referred to as "open concept" — can be even more difficult to adorn. This is because — unlike traditional closed floor plans — they do not have pre-existing barriers between different activity zones and different functional spaces. This lack of delineation between the dining room, family room, living room, kitchen, breakfast nook and more can make effective furniture placement and appropriate decor outfitting complicated. Striking a balance between multifunctionality and attractive design schemes for each area is indeed possible, particularly with a bit of expert advice on how to style open floor plans. For guidance decorating your own multi-functional open concept interior, follow our list of tips below.
What Challenges Does an Open Floor Plan Pose?

Lack of Privacy
Open floor plans offer ease of entertaining and the ability to spend time with others while engaging in different activities. They also offer the option to cook while watching TV or chatting with family and friends in the living room and the opportunity to carry food easily from the kitchen to the dining space without opening and closing doors. Because open concept spaces offer both togetherness and a sense of airiness, they have only gained popularity over the last several decades. However, as with many other aspects of our lives, the COVID-19 pandemic has challenged the concept of the open floor plan interior and thrown its sovereignty into question. With millions of adults working from home and a similar number of students learning remotely, private space to study and work has become a must in houses around the country. Unfortunately, while open floor plans provide lots of space to entertain and spend time as a family, they do so at the expense of privacy and peace and quiet.
Clutter, Limited Sound Control and Cost
In her article "THE CHALLENGES ?AND OPPORTUNITIES OF OPEN-CONCEPT FLOOR PLANS" for Elle Decor, Brittany Cost explains. Quoting designer Dennese Guadeloupe Rojas, Cost writes that "'not only does an open concept floor plan "not work well for [those] that want designated spaces for privacy and different functions,'" but it is also ill-suited to homeowners who are disorganized or have lots of stuff they hope to hide away from visitors. Rojas explains that "'if you are messy, you will see all the mess in your space.'" In his article "The Open Floor Plan: History, Pros and Cons" for The Spruce, Lee Wallender adds to the list of challenges posed by open floor plans. Wallender writes that open concept spaces are also "costly to heat and cool" — particularly if they have vaulted ceilings or large windows. They are also more expensive to build because "without partition walls, open concepts depend on steel or laminated beams for support [which] are costly to install." Lastly — though Wallender also mentions a lack of privacy and cluttered look — Wallender explains that open concept spaces have "poor sound control" because they have "no partition walls to block noise."
6 Tips on How to Style Open Floor Plans Across Your Living Room, Dining Room, Kitchen and Family Room
#1 Move Furniture Away from the Walls in Your Living Room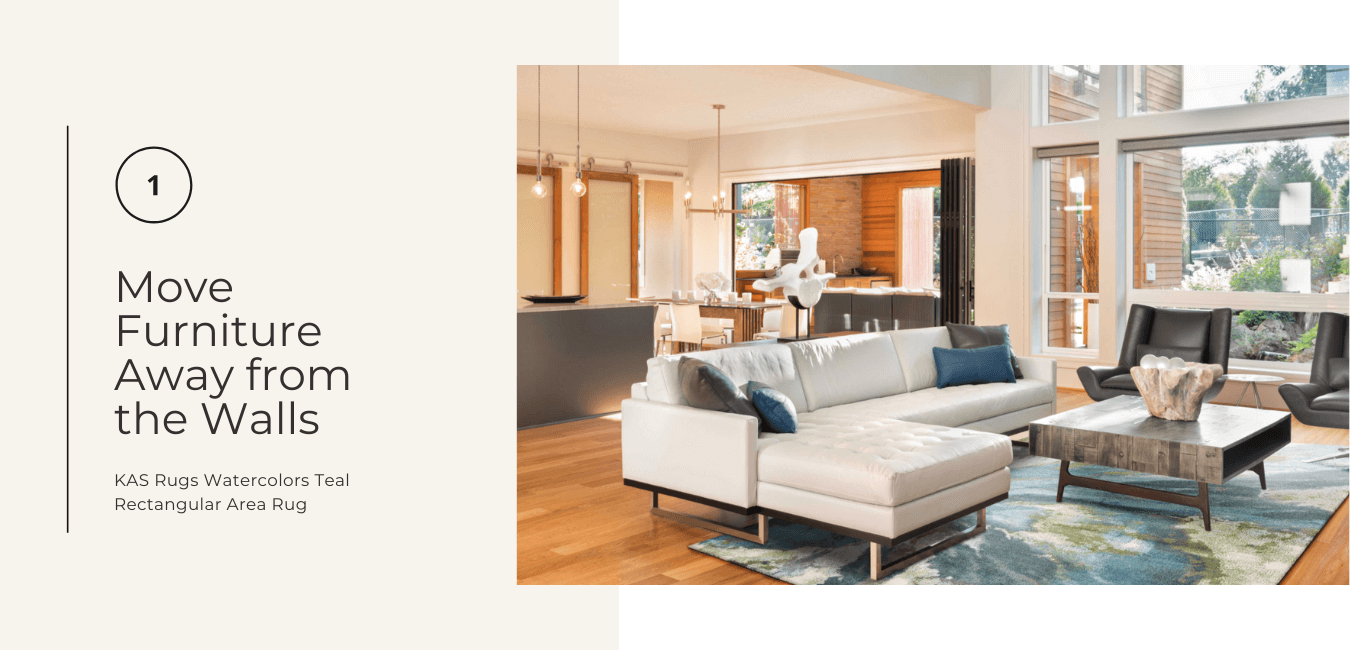 KAS Rugs Watercolors Teal Rectangular Area Rug from LuxeDecor
The first in our list of tips on how to style open floor plans is to move furniture away from walls. In her article "6 Tips for Decorating an Open Concept House" for The Spruce, Lauren Flanagan recommends using "furniture to break up spaces." Flanagan notes that "in an open concept house, all the same rules of living room and dining room decorating apply," so try to "move furniture away from the walls and create seating and conversation areas." This tip does not solely apply to sectionals, armchairs and benches, however. Lauren Flanagan notes you "can also use large items like bookcases and screens to break up long walls and define spaces" in your open floor plan. If you feel you have to keep furniture near the walls for safety or accessibility, consider placing a sectional or work station in the corner. Surround the sectional with end tables, a coffee table and/or ottomans while flanking it with one or two armchairs. For a small work station, be sure to avoid setting it directly against a window to limit back and side lighting. Add a framed painting, set of photos or clock above the desk to tie the space together in your open floor plan.
#2 Create Activity Zones Around a Focal Point in the Open Plan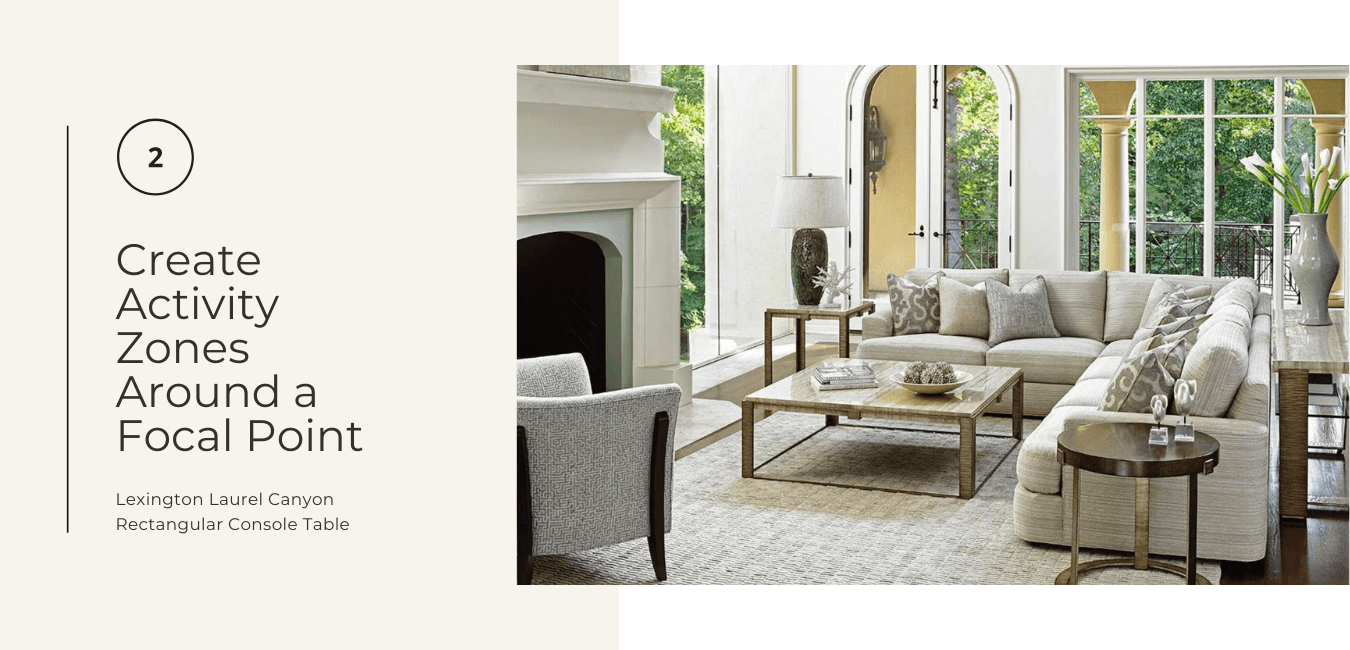 Lexington Laurel Canyon Rectangular Console Table from LuxeDecor
The second in our list of tips on how to style open floor plans is to create activity zones around a key design element. Creating activity zones within an open concept space is one of only a few sure-fire ways to add interest and keep a large space from feeling drafty and sparse. Establishing activity zones — a work zone, a television-watching zone, a reading nook, a dining area, etc. — gives each space a defined purpose and allows multiple people to use the space at a given time without feeling cramped or intrusive of others. In his article "12 Ways to Make Your Open Floor Plan Feel Cozy" for HGTV, Brian Patrick Flynn notes that "when it's time to start arranging furniture, a large, open room can seem intimidating, [but if you] let the room's focal point guide you," the furniture will fall into place logically. Flynn recommends that "if you have a fab fireplace or amazing gallery wall, start there." You can "arrange larger furniture pieces around that, then work your way out from there" in your open floor plan. Just be sure to choose furniture of a similar scale to the focal point in question to avoid dwarfing the focal point or drowning the furniture in your open floor plan.
#3 Keep Furniture Close Together Rather Than Spread Apart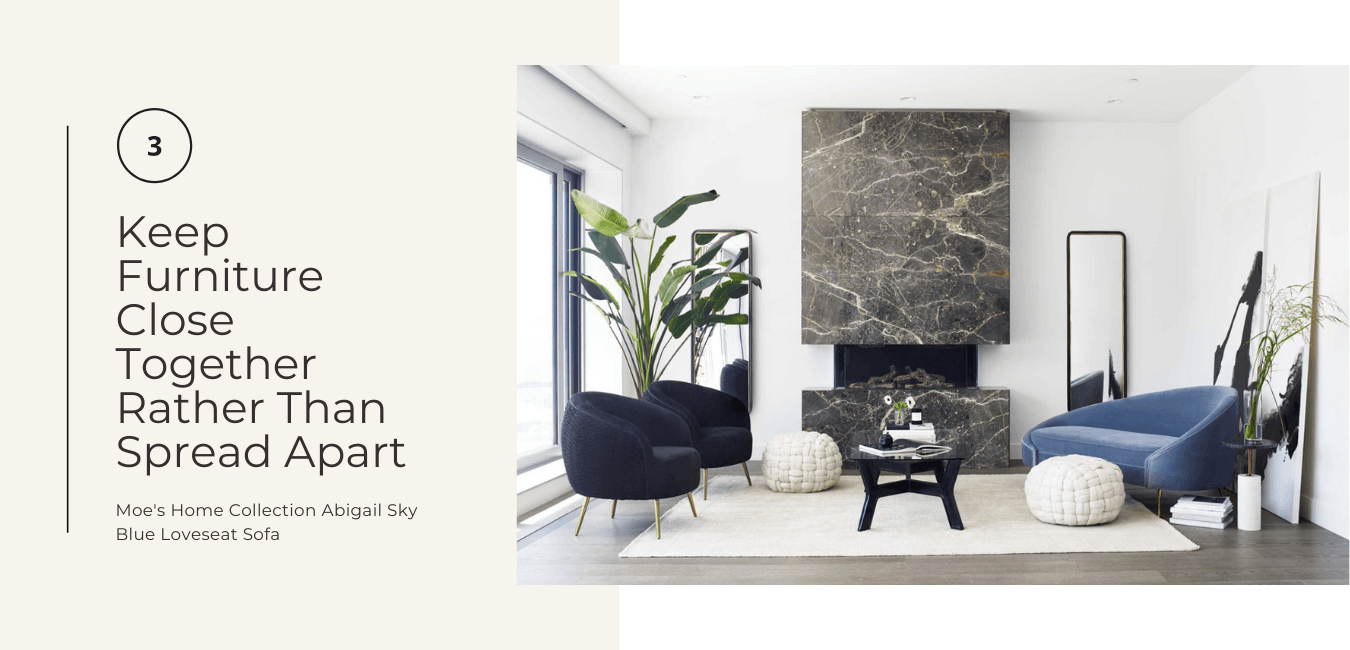 Moe's Home Collection Abigail Sky Blue Loveseat Sofa from LuxeDecor
The third step in our list of how to style open floor plans is to group furniture. When decorating or designing a large open floor plan, it can be tempting to purchase enormous furniture pieces and spread them throughout the room simply to fill the space. However, this can actually make an open floor plan feel closed and cramped rather than welcoming and functional. Choosing smaller pieces that work well together and placing them in a program rather than floating them around the space is more effective and much more usable on an everyday basis. Jessica Bennett explains why keeping furniture closer together is a better choice than spreading them out in her article "15 Distinctive Ideas for Living Rooms with Open Floor Plans" for Better Homes & Gardens.
Bennett recommends that homeowners "group the sofa and chairs in a close arrangement with the seats facing each other, instead of out into the room." Such a "strategic furniture placement...makes an open living room feel cozier and more intimate." It also "creates the effect of a smaller, more inviting room within a large open space." She continues on to note that "a properly placed sofa noticeably marks a transition from one space to the next" in your open floor plan. If you have arranged all the furniture in your open-concept space but it still feels sparse, Bennett recommends adding other pieces like a console table, storage baskets, cushions, blankets and throw pillows to make each zone feel a bit bulkier. Bennett writes that adding these pieces can make a furniture arrangement in an open floor plan "appear more substantial."
#4 Establish Clear Walkways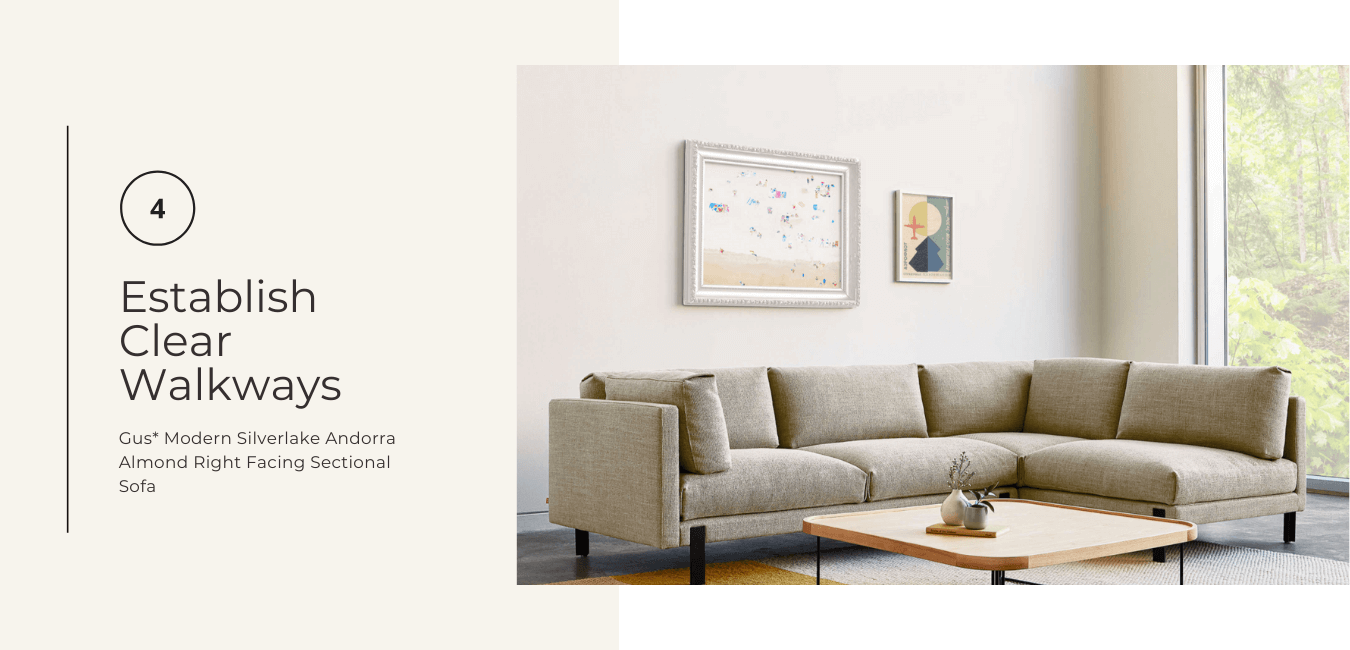 Gus* Modern Silverlake Andorra Almond Right Facing Sectional Sofa from LuxeDecor
When designing the furniture programs in your open floor plan living space — e.g. picking out furniture and creating activity zones — be sure to leave enough space for residents and visitors to easily and comfortably walk around the space. The primary goal of interior design is always to create a functional, livable space that lives up to both utilitarian and aesthetic expectations. For instance, writes Natalie Myers in her article "Good Spaces: Mastering the Open Floor Plan" for Houzz,"the space between the kitchen counter and the dining room table should be at least 4 feet (1.22 m) so that people can walk between the two and diners have room to pull out chairs." As you consider pathways, also keep in mind how people will move around the space.
Myers recommends notifying which activity zone makes the most sense next to another activity zone. She writes that in most spaces, "an obvious adjacency is placing the dining table near the kitchen." However, depending on your needs and style, you might want "an area for comfortable seating immediately nearby, a small workspace, or maybe a children's play area." Though establishing clear walkways which every guest and resident can easily traverse is a necessity, where you place each activity zone "all depends on your lifestyle." As you set up your open-concept space, however, do remember to expand the width of your pathways for family and friends who use wheelchairs or other mobility devices.
#5 Change Up Soft Finishes Between Activity Zones to Mark the Transition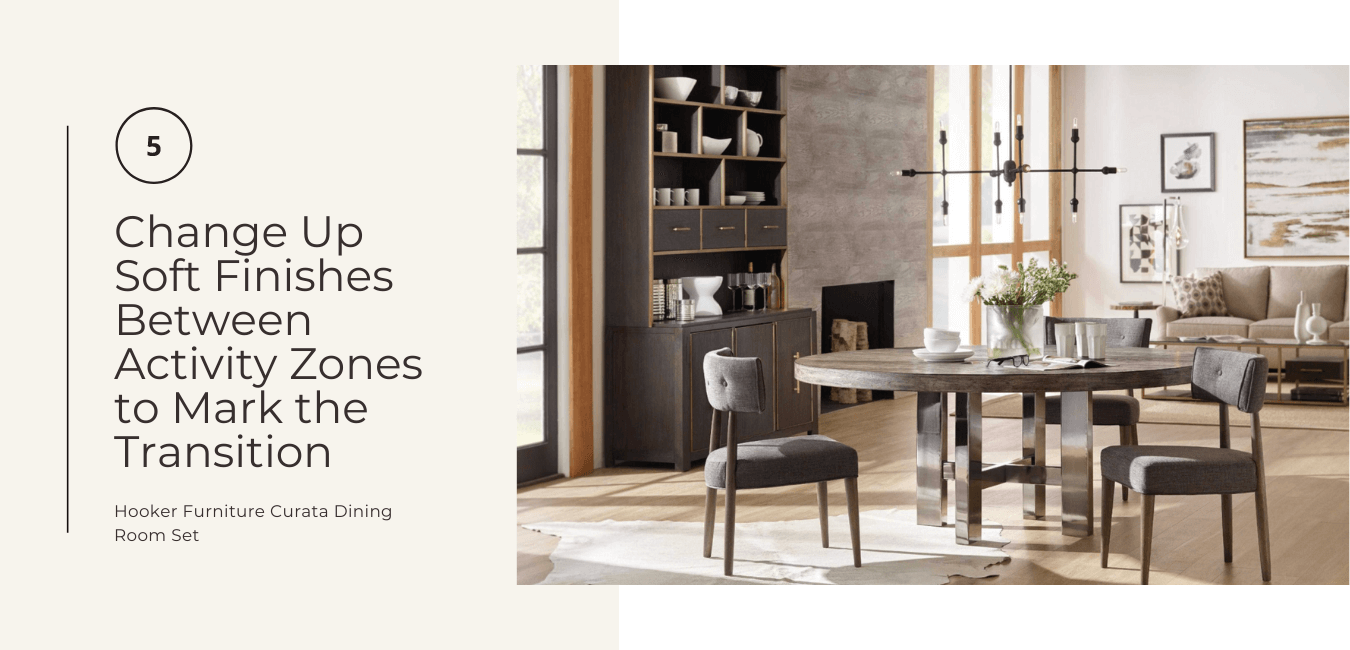 Hooker Furniture Curata Dining Room Set from LuxeDecor
Soft finishes are essential for adding texture, warmth and cohesion to any space, but they are particularly important in open-concept spaces. Adding a rug, for instance, ties an activity zone together by drawing a sort of border around the furniture or just within the furniture program. Changing up soft finishes between zones in your open floor plan — e.g. the dining space, reading nook, work area and/or breakfast nook — can also function to mark the transition between these activities. Cynthia Bowman writes in her article "12 Open Floor Plan Ideas to Steal" for MyMove that "in having an area rug separate the visual plane, you can make the open floor plan seem like each area has its own distinct part of the home." Consider the image above when choosing accents for your open-concept space. The upholstery of the dining chairs bears a similar tonal and material quality to that of the couch, but it is not exactly the same. This type of variety adds interest and breaks up visual monotony, which — if unaddressed — can cause a space to fall flat.
#6 Keep the Color Scheme Consistent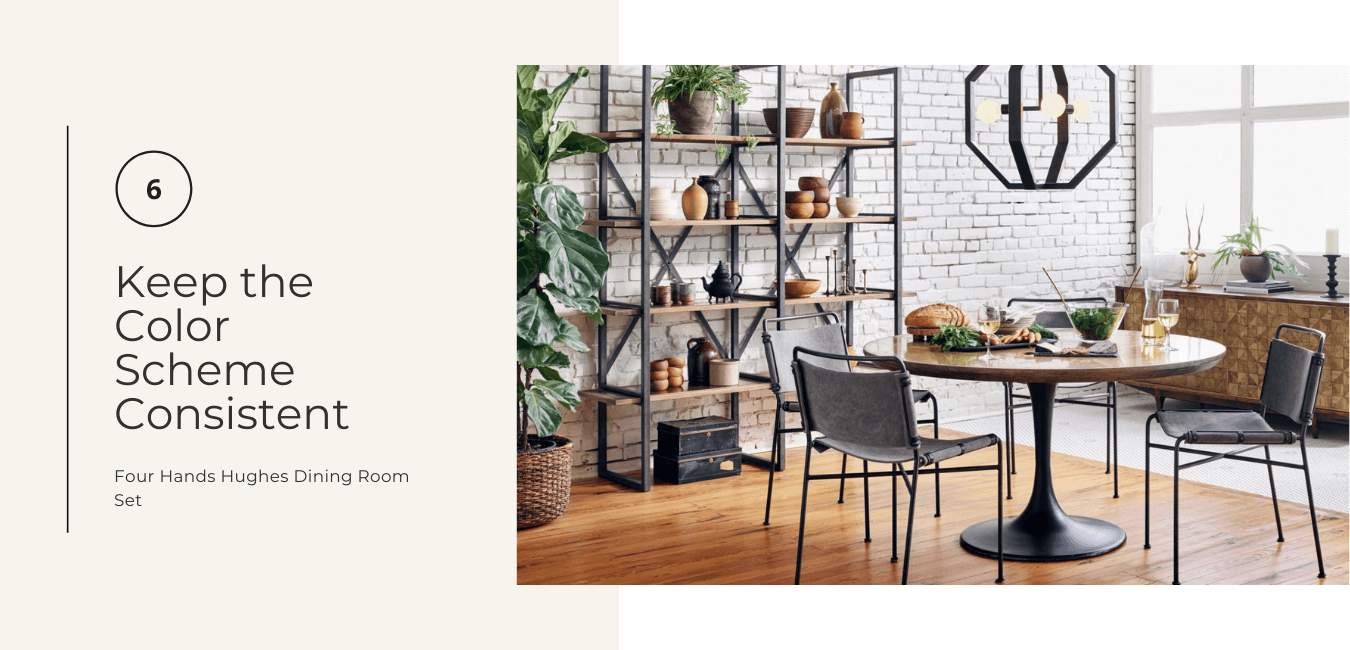 Four Hands Hughes Dining Room Set from LuxeDecor
Lastly, try to carry different accents, colors and tones from one zone to another in your open floor plan without matching everything exactly. In her article "How to Decorate and Create Spaces in an Open Floor Plan" for Dengarden, Linda Chechar explains how to achieve this kind of cohesion. Chechar writes that "while each area in an open concept floor plan should retain its distinct personality, the use of a unifying color palette creates a sense of flow from area to area." She recommends that homeowners "try neutral colors for large-scale furnishings to maintain continuity throughout [while adding] jewel tones in accessories and artwork...to create visual interest and movement in a large expanse." Maintain the same finishes across all hardware in your open floor plan — from kitchen to dining room to living room to family room. Because this is a small touch, it avoids being too "matchy-matchy" while "making sure the elements are consistent."