If you appreciate Art Deco design, but prefer something a little more subtle, discover Art Moderne interior design when you read about our favorite pieces now!
Art Moderne Interior Design at LuxeDecor
Art Moderne interior design was loosely inspired by a combination of Art Deco motifs and Minimalist themes. While it heavily utilizes the Art Deco take on geometric patterns and rigid lines, it does incorporate a few more natural shapes and ergonomic features. If Art Deco has its roots in France, Art Moderne found its home in the United States.
Idealist and streamlined, the Art Moderne style seamlessly blends the opulence of Art Deco with the structure of Minimalism. With the addition of natural textures and neutral hues, you get a balanced interior that brings together retro styles with a modern twist. If you're wondering what pieces fit best into your living room, dining room, office, or bedroom, read on here for our favorite Art Moderne inspired interior designs.
Desks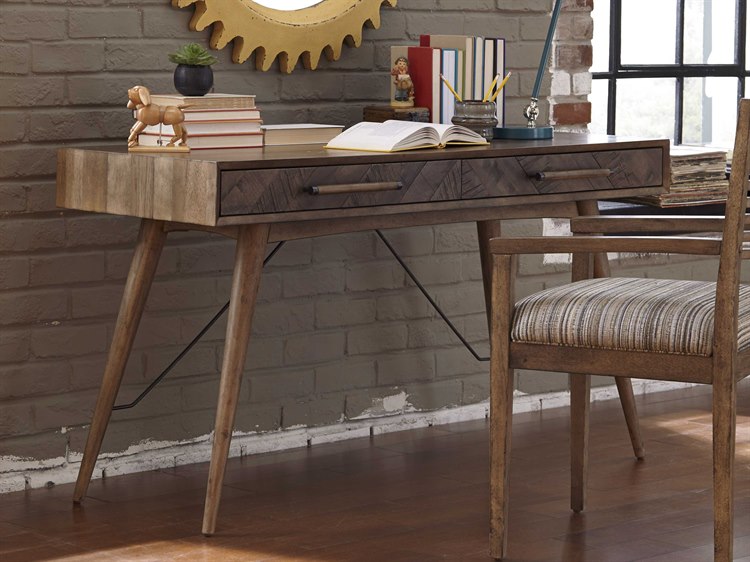 Art Moderne desks can offer you a number of eclectic choices. If you prefer something that tends towards the Art Deco era, explore patterned or inlaid options. Looking for something a little sleeker? Try a completely function focused desk made of metal.
Made of gorgeous rosewood, this Santos collection desk provides a delicate balance between the Art Deco and Minimalist styles. While the richness of the wood and the shimmering lacquer bring to mind the luxury of the 1920s, the clean lines and delicate curves point towards an ergonomic desk choice that blends with any number of interior design styles.
From the Epicenters collection, this A.R.T. desk offers a rustic take on Art Moderne interior design. It still provides simple, elegant lines and functional drawers, but it also incorporates vintage styled birch wood and a chevron inlay technique. While it lacks any lacquer or veneer, the chevron pattern clearly points towards one of the most popular motifs of the Art Deco era.
The perfect choice for the consummate professional, this Classic collection computer desk offers space for all your work needs as well as the addition of Art Moderne interior design. From a glass surface for your desktop to the shelved layering for notebooks, pens, and folders, this Caracole desk is nearly a contemporary art piece. Don't let this simple design fool you, though! It still indulges in gold accents and a silver finish to elevate from boring to fabulous.
Tables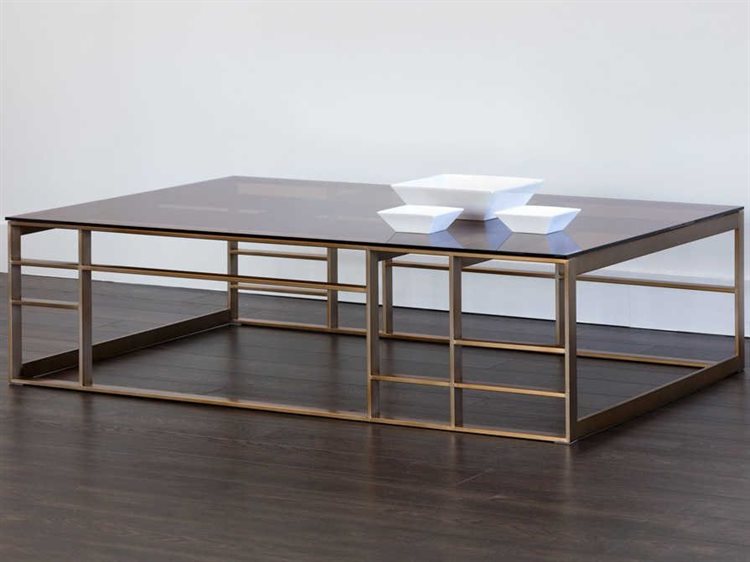 From dining room tables and bar surfaces to living room coffee tables and more, the Art Moderne interior design style brings a lot to the communal spaces in your home. You want a mix of pieces that allow large groups to get together, but don't feel intimidating when you have an evening just for two.
At first, this coffee table may seem like it's not interesting or unique at all, but when you take a deeper look, you'll see the genius behind Sunpan's design. The brown glass, oversized dimensions, distinct architectural base, and antique brass finish are perfect examples of how to take simple design features and create a piece that's grandiose. These sleek elements provide the basis of the entire Joanna collection.
While this Foundary collection dining room table may strike you as more appropriate for Industrial interior design, it is the perfect choice for an Art Moderne home. Art Moderne interior design is, at its core, a blend of different eras. Art Deco, Minimalism, Retro, and Mid-Century Modern all make an appearance within this table from Nuevo Living. You'll find Art Deco influences in the choice of marble and wood materials, Minimalism in the functionality of the design, Retro inspiration in the geometric table legs, and Mid-Century Modern in the colors and textures.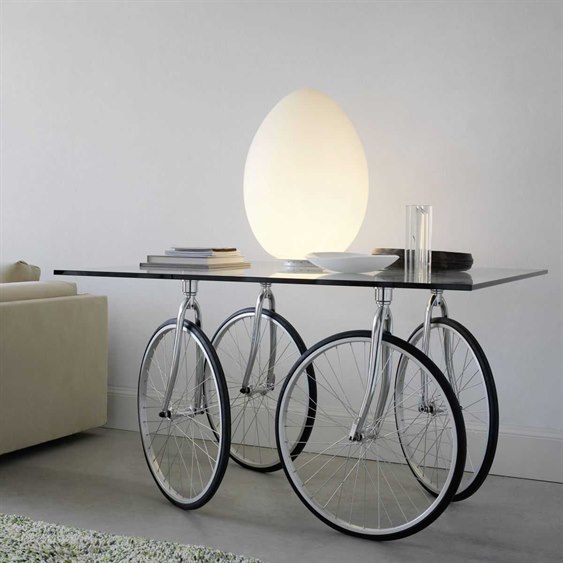 If you have space for a bar in your home, you want the serving table to be a true eye catcher. While you hide the storage cabinet for your liquors and mixers in the corner, this Fontana Arte table should be the centerpiece! It is a bit of a departure from the typical Art Moderne interior design, but it still follows the spirit of the aesthetic.
The clean glass surface is the epitome of Minimalism, providing all the space you need for mixing drinks and pouring wine. The bicycle table legs, on the other hand, fall into a very interesting category of Art Deco design. There was a movement during this period to ornament all aspects of architecture and building décor to advertise the building's function. While in this case, the bicycle table legs don't exactly advertise for a bar, they do offer a quirky take on this retro trend.
Buffets and Sideboards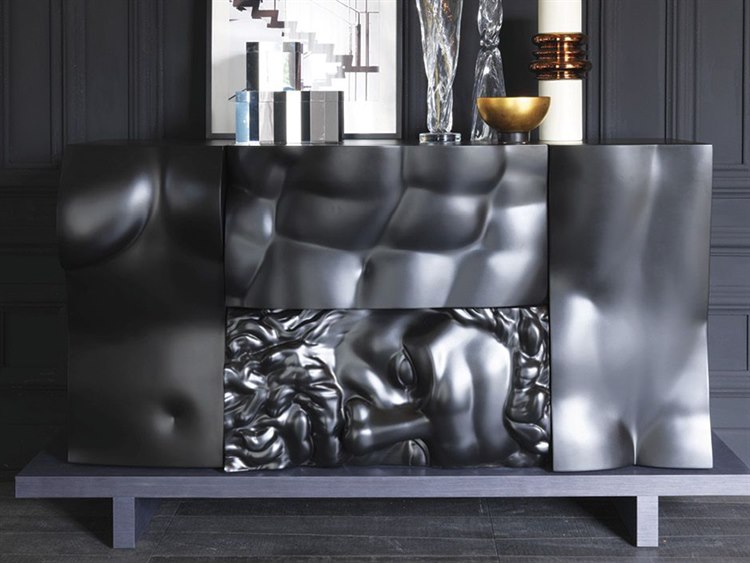 Whether you choose to place these accent tables in the living room or dining room, you should explore more than just their functionality. Art Moderne interior design demands some sense of luxury and perhaps a little frivolity when structuring your home décor.
Another example of how marble can add a sense of luxury to your space, this media cabinet from John Richard offers something unmistakably refined. With the white marble fitted neatly into its frame, there is nothing more to look at than the natural veins and texture of the stone. You can find more sophisticated designs in the John Richard Accent Cabinet collection.
A.R.T. Furniture

Epicenters 33127 Gray Wash 24'' Wide Square End Table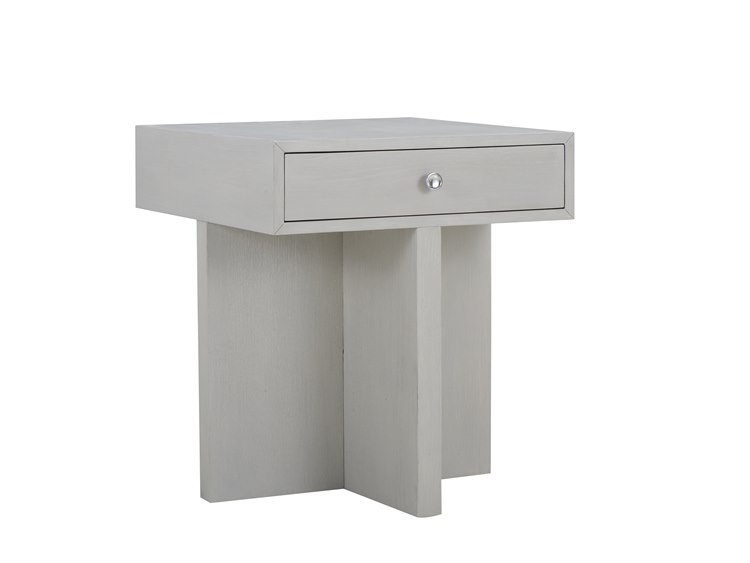 While this square end table offers a more casual look for Art Moderne interior design, this piece is actually a lot more modern than it first appears. An understated look with a useful drawer, it provides the stolidity you need out of an end table while communicating effortlessness and timelessness. It also offers a striking grey finish that brings out the grain of the wood.
For something completely out of the ordinary, you won't be able to deny the appeal of this Driade console from the Lab collection. The black lacquer is a bold statement that will determine the aesthetic for the rest of whichever room this cabinet appears in. It also utilizes Greek style anatomy and sculpture to dazzling effect.
Chairs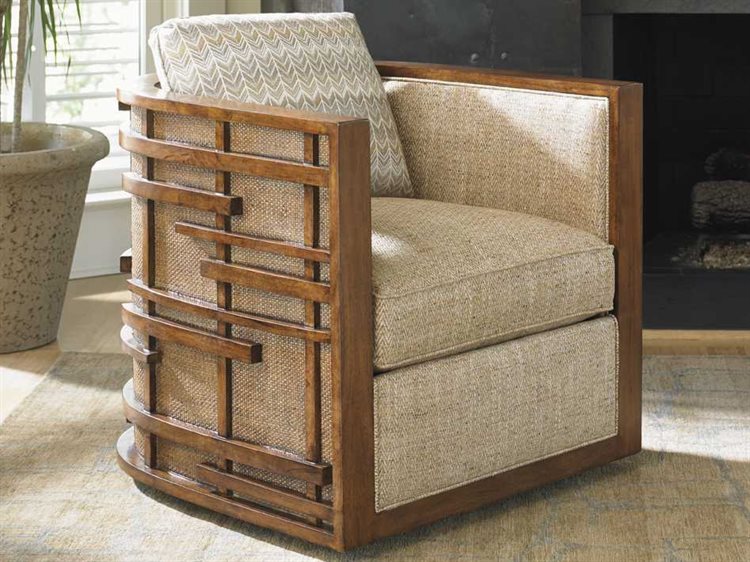 Many of our living room and dining room tables come with chairs as a set option, but that doesn't mean you have to pair everything together. Explore some of these standout chairs that could be the focal point of your Art Moderne interior design.
Whether you choose to place one of these in your living room or add one in every color for a full set, this Four Hands accent chair offers a stylish element for your interior spaces. Available in a number of neutral colors, it's the perfect backdrop for boldly patterned pillows or colorful accent decor.
Aside from the color, however, the Grayson collection offers chairs and sofas that beautifully utilize both the harsh, rigid lines of Art Deco as well as more natural curves and pillowing from Minimalist design.
Tommy Bahama armchair features a contemporary wood frame dressed in woven raffia and singular Asian-inspired fretwork that curves around the back. An ideal example of how Art Deco borrowed from Pan-Asian furniture styling, your Art Moderne interior design will greatly benefit from having showstopper pieces like this one.
For those that have been craving the ultra-modern Minimalist look, this chair is for you! This Kartell design comes in a set of two and offers nothing but perfect ergonomics for dining room sitting. Both flexible and rigid, everything in the Hi Cut collection is made in a single mould and explores the playful aesthetic created by soft curves that intermingle with unyielding angles.
Wall Art and Accents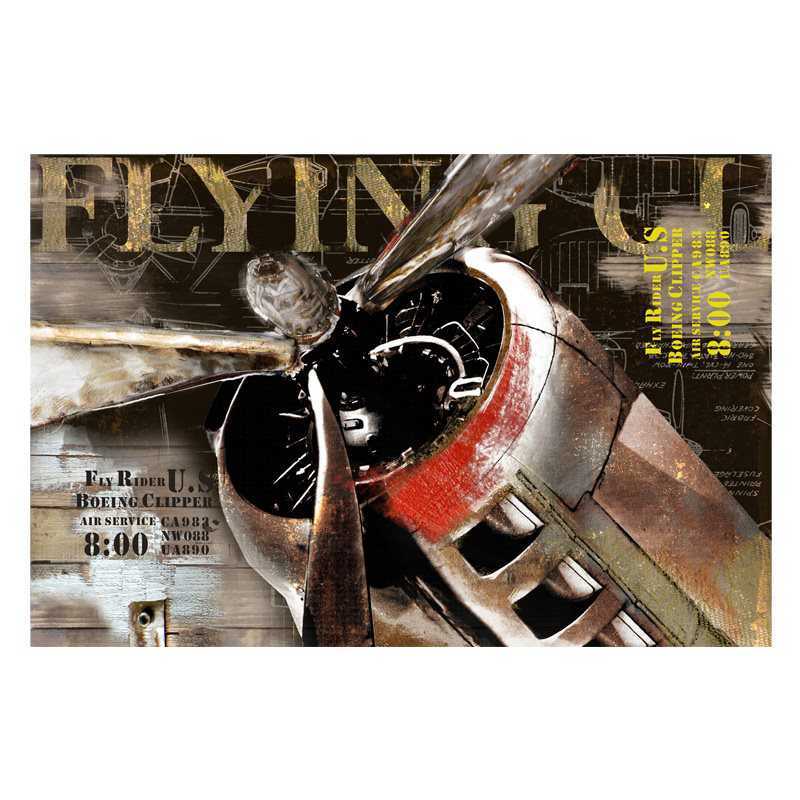 Wall art and accents are an essential part of interior décor that cannot be forgotten. They add subtle emotion to a room and weave together every element within a space seamlessly.
Harkening back to original Art Deco motifs, this wall art from Bassett Mirror utilizes the love of geometry to create eye-catching designs. Many pieces in the Modern Metallics collection range from abstract geometry to floral interpretations.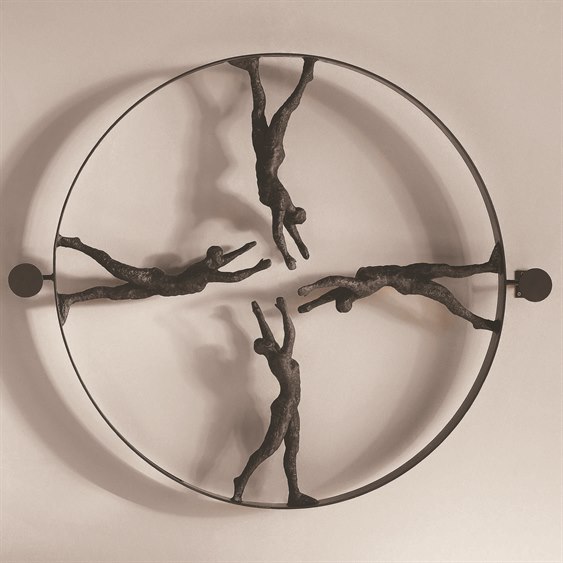 Another piece that perfectly balances the simplicity of Minimalism with the luxury of Art Deco, this Global Views panel strives to showcase natural forms within the realm of simple functionality. If your Art Moderne interior design focuses on antique metals and neutral fabrics, this is the perfect piece for you.
Slightly leaning more towards Modern art, the prickly canvas from Daleno does follow the muted hues and pastel colors that feature heavily in both Art Deco and Minimalist design. While the subject of the piece is very Moderne, the various shades are what will draw the eye and tie a room together.
Art Moderne Interior Design with LuxeDecor
At LuxeDecor, we're experts at finding the furniture and accessories you're looking for. Explore our entire Art Moderne inspired collections by browsing our living room, dining room, office, and bedroom design ideas.