From metal sculptures to canvas paintings, wall art offers the perfect decorative touch in any room. Learn more about wall art types and placement.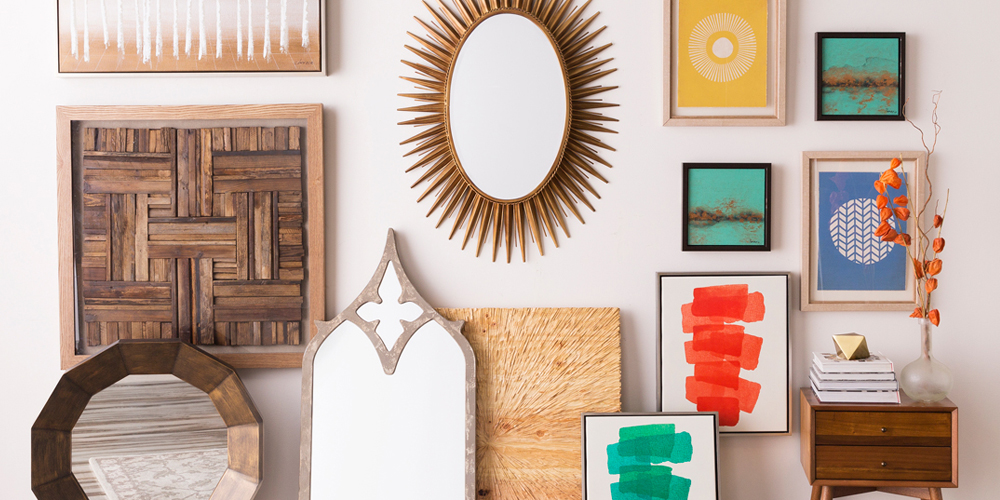 Wall decor can be one of the finishing touches to a room that will make your space feel more like a home. With so many varieties of wall art to choose from, considering simple factors such as the size, framing, and placement options can allow you to make a better decision on what type of wall art to buy.
Wall Decor Sizes
Mini
10"-17''
Mini wall decor measures between 10-17 inches in diameter. Although pieces of this size can stand alone, they are often grouped together or styled as a part of a gallery wall.
Small 18-24''
Wall decor measuring between 18 and 24 inches in diameter is considered to be small. Small wall art appears well when paired with other small artworks and when grouped with other pieces in a gallery wall.
Medium 25-32''
Wall decor measuring between 25 and 32 inches in diameter is considered to be medium size. These artworks are large enough to be styled alone in most rooms, and can also be among the larger pieces of a wall gallery.
Large 33-40''
Wall decor between 33 and 40 inches is considered to be large. One large wall art piece can complete the look of most rooms. These artworks are not recommended for inclusion in a gallery wall in most settings.
Oversized 41''+
Any wall decor that is 41 inches or larger is considered to be oversized. Oversized wall art can be the focal point of a wall. In small rooms, these pieces can overwhelm the space.
Wall Decor Frame Materials
Metal
Metal frames are durable and include a variety of styles. These frames can be made from bronze, pewter, sterling, and other alloys. Depending on the finish and frame detailing, metal frames can exude a modern, contemporary look or recall traditional ornate styles.
Acrylic/Plastic
Acrylic/plastic frames are usually lightweight. These frames are ideal in settings that cannot support much weight. Acrylic frames can be virtually any color, and include finishes from shiny to matte. An acrylic frame generally lends itself to a more informal, casual look.
Wood
Wood frames can easily be stained or painted to match surrounding decor. They can be made from almost every type of wood. Wooden frames usually give off a more traditional look, and can help artworks to appear more sophisticated or expensive.
Wall Decor Types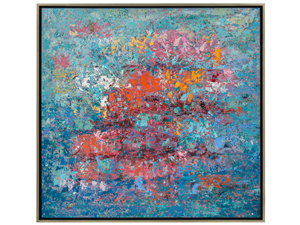 Canvas Wall Art
Canvas wall art prints refer to the process where an image is printed onto a canvas that is then stretched, or gallery wrapped, onto a frame. Edges of the print are wrapped around framing and secured on the back of the canvas. Canvas wall art can also include original paintings, generally oil paintings.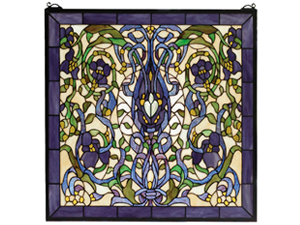 Glass Wall Art
Glass wall art includes etched glass pieces, tiffany stained glassworks, glass shadow boxes, and more. Many of these pieces include unique, molded shapes or hand-blown elements. These artworks may include other materials in their design, but glass must be the principal material for a piece to be categorized as glass wall art.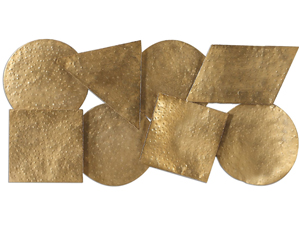 Metal Wall Art
Metal wall art includes etched and painted metal, as well as metal that has been shape-shifted into distinctive forms, such as tree branches. Metal wall art can include many finishes and metal types. There is oftentimes a 3-D component to metal wall art.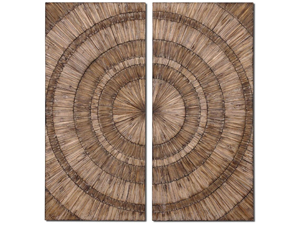 Wood Wall Art
Wood wall art includes relief carvings, sculptures, and shelves crafted with wood as the principal material. Wood wall art can be stained or painted nearly any color and include any type of wood in its design. Wood wall art is commonly included in modern and rustic style homes.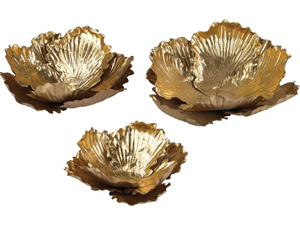 3-D Wall Art
3-D wall art is a general term to describe any artwork with dimensional qualities. 3-D wall art can include many styles, materials, and sizes.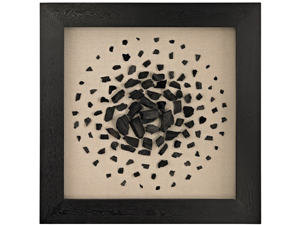 Shadow Boxes
Shadow boxes are a display of small decorative objects or sculptures encased in a deeper, transparent frame.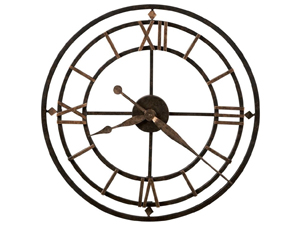 Wall Clocks
Wall clocks are generally analog clocks, which can be hung on the wall. Wall clocks include various shapes outside of the classic, round clock design. These pieces can be highly decorative as well as functional.
Wall Decor Placement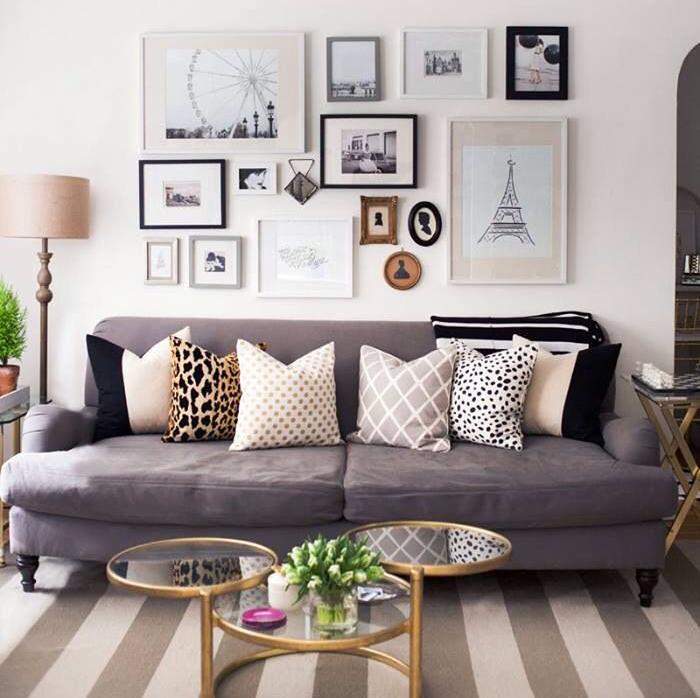 Above the Sofa
The length of the wall art should run no longer than 2/3 the length of your sofa. Artwork above the sofa should be hung 6-12 inches above the top of the sofa.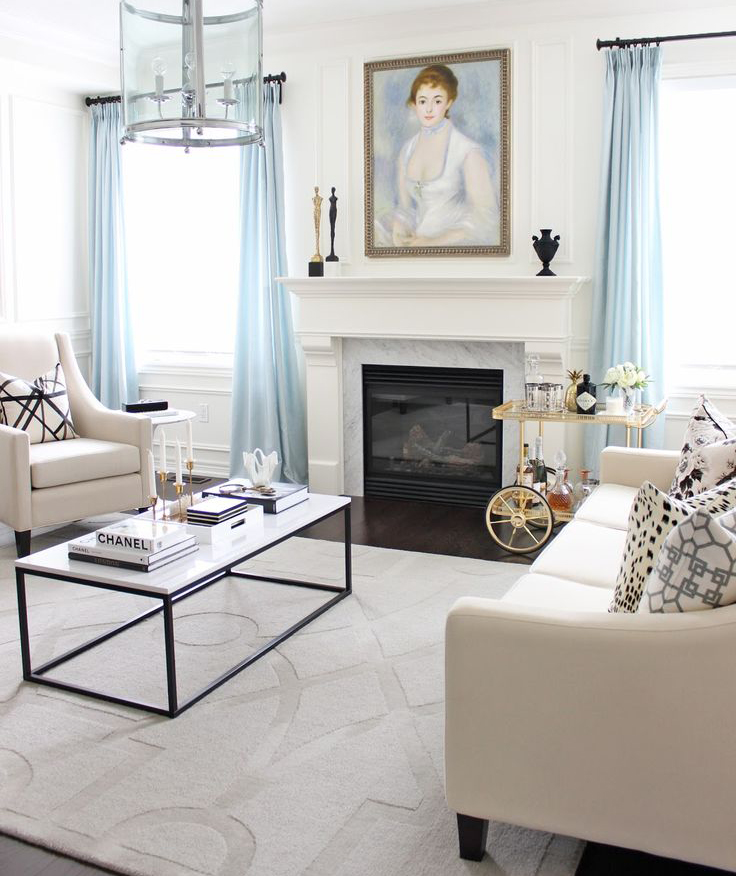 Above the Fireplace
Wall art above the fireplace should measure shorter in length than the fireplace. Hang artwork at least 6 inches above the fireplace (or mantle if you have one). For a more relaxed look, artwork can be set directly on the mantle, and lean against the wall.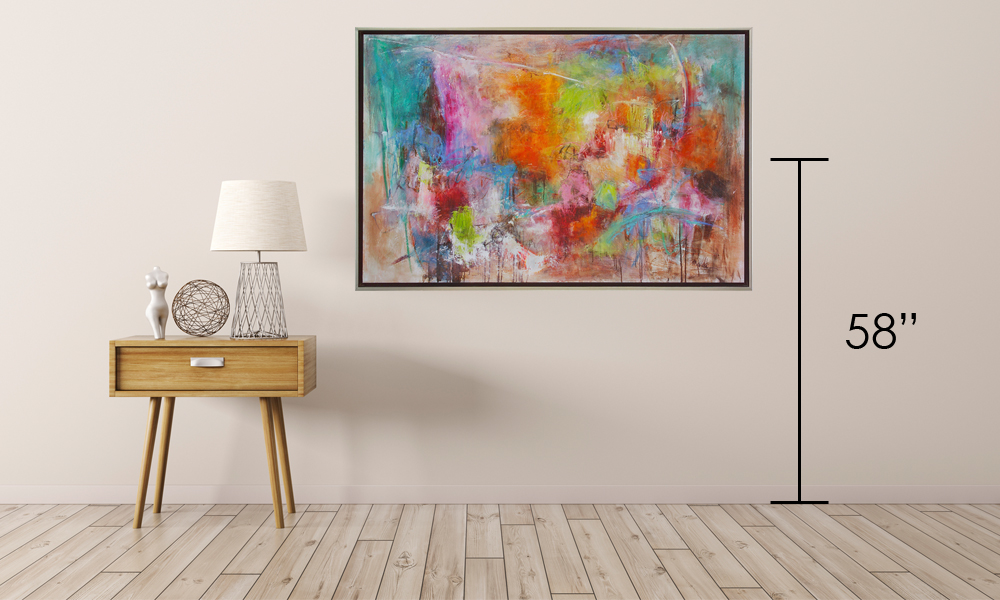 General Placement
A good rule of thumb for hanging artwork other places in your home, is to hang each piece at 58" on center. This means, to allow exactly 58" between the center of the piece of artwork (measuring widthwise) and the ground. This measurement ensures artwork is not hung too high, and keeps artwork in ideal proximity to the other furniture and decor pieces in a room. For creating a gallery wall, place artworks so that the center of the entire gallery (measuring widthwise) is 58" from the ground. This rule is used in galleries and museums for ideal viewing art at eye level.
Give each art piece "breathing room" by not hanging other pieces or styling furnishings too close to it.
Wall Decor Care
Dust frames occasionally with a soft, dry cloth.

Have artworks professionally framed to maximize preservation quality and appearance.

Use a level to ensure artwork is not crooked.

Always be sure to use proper hardware when installing your artwork to ensure secure and safe hanging.

For the most secure hold, secure hanging hardware into wall studs or use wall anchors.