From style to comfort, there are many factors to consider when buying leather furniture. Learn more about leather benefits, types, treatments, and care.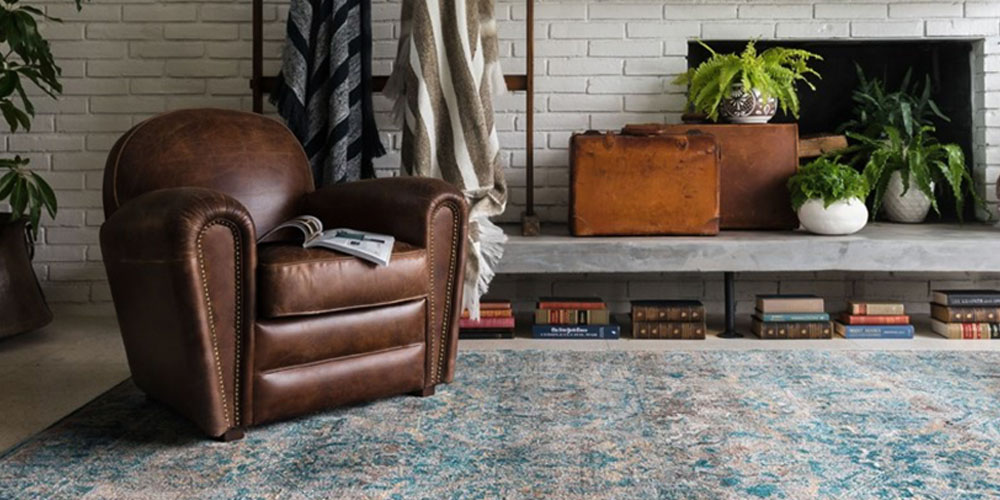 Buying fine leather furniture is an investment that provides unmatched levels of durability, comfort, and style to your home. Consider the benefits, types, treatments and care of leather to make an informed decision on selecting the best leather furniture that will best suit your lifestyle and home.
Leather Benefits
Durability: Leather is remarkably long lasting, averaging 4x longer than other fabrics, when properly maintained. The natural material and unique manufacturing technique of leather make it a high-quality fabric that doesn't easily rip or tear. Leather doesn't wear out, it wears in.

Comfort: Leather is popular all-year round. Like skin, leather is a breathable fabric that can adjust to body temperatures within 12 seconds, which makes leather immediately comfortable. It is warm in the winter and cool in the summer. Leather stretches and retains its shape without sagging.

Value: Leather is a natural product with limited resources, making it one of the leading values in today's furniture industry. Using hides to make leather is a way to recycle nature's resources. Leather is designed to age well, so high-quality leather will not crack or peel.

Versatility: Adaptable in any setting, the choices for leather are astounding with colors, patterns, pricing, and softness to consider. Through the dyeing process, colors are absorbed by the leather so it will not fade or rub off.

Style: Leather is timeless and only improves with age. Each piece of leather is unique and distinctive like a fingerprint. Individual characteristics like scars, wrinkles, and grain variations are not "flaws". These beauty marks add character and individuality to furniture, and is a mark of quality.

Safety: Leather is fire resistant and emits no toxic fumes.
Leather Types
Cowhides are removed in one layer, so it must be split into several layers to reduce thickness. The process of tanning leather involves reducing the hide to the thickness required for upholstered products. The outer layer of hide is referred to as the "top grain", and "split" refers to the lower layers of the hide underneath the top-grain. Leather is split to create a piece of leather from the layers of extra thickness from the hide. Grain refers to the natural markings that makes each hide unique, and testify to the leather's authenticity. In general, genuine leather is sold in 4 forms.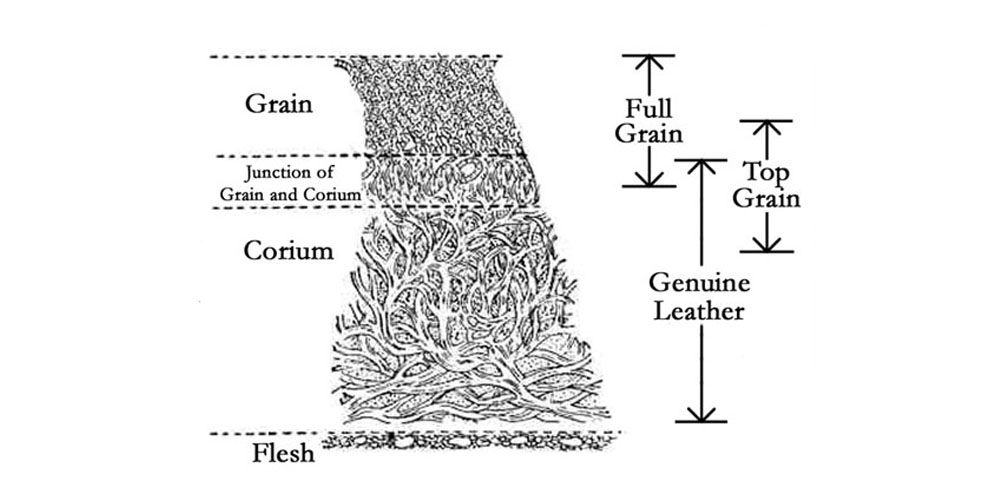 Natural Leather
Full-Grain Leather
Full-grain leather is the highest grade of leather, and refers to hides that have been left in their natural state. Full-grain leather has not been mechanically altered by any processes that remove natural imperfections on the surface of the hide, such as sanding and buffing. The grain remains which makes this type of leather strong and durable. Full-grain leathers are typically available in two finish types: aniline and semi-aniline (see "Treatment Processes" below to learn more).
Top-Grain Leather
Top-grain leather is the second highest grade of leather because it is split from the top layer of the hide. The removal of the separated later makes top-grain leather thinner and more pliable than full-grain. Top-grain leather is best suited for high-end leather products and upholstery because it is the strongest and most durable part of the hide. Top-grain leather is minimally processed which allows the hide to be soft and supple. Over time, top grain becomes more supple and displays a soft patina and natural character.
Corrected-Grain Leather
Corrected-grain leather generally refers to top-grain leather that has had its surface grain partially removed to minimize surface imperfections and flaws. This type of leather has been altered by buffing its surface to reduce scarring, or embossed to develop a special effect. Corrected leather is often best suited for recreational rooms or other places that require exceptional durability. There are different forms of corrected-grain leather depending on the degree of correction including:
Protected Leather: Protected leather refers to any leather (not just top-grain) that has had an artificial grain applied to its surface, or "corrected". It refers to paints or other finishes that have been applied to make the surface more durable than a more natural and less-processed leather.
Split Leather
Split leather is merely the lower layers of a hide underneath the top-grain. Once the top-grain has been removed, split leather is created from the fibrous part of the hide. Split leather does not have all the same characteristics of top-grain due to processing differences. Split leather grain is typically stiffer, coarser, and less durable, and tends to crack more easily. The average wear of split leather is 5 years. Cheaper leather upholstery will often be made from split leather instead of top-grain leather.
Leather Alternatives
For customers seeking a more economical price point, there are leather alternatives that don't match genuine leather's depth, character, and quality, but can give customers the look of leather:
Reconstituted Leather
Bonded Leather
Also known as blended leather, bonded leather is a man-made material made from leftover scraps and shavings of leather that are glued and pressed together with polyurethane or latex. The varying degree of actual leather used in the mix is minimal (as low as 10%), and affects the smell and texture of bonded leather. Bonded leather is weak and degrades quickly, and does not acclimate to body temperature unlike actual leather. The term serves no purpose other than to permit the use of the word "leather" to be associated with the product.
Bycast Leather
Only slightly better than bonded leather, bycast leather is defined as a layer of splt (often too thin or flawed for normal use) that is completely sealed on top with a layer of polyurethane. Because this product is made from an inner layer of the hide and laminated with polyurethane, it does not have the same structural integrity or durability of actual leather. The material is slightly stiffer and less expensive than top-grain leather. Since it is covered in a plastic coating, bycast leather is easier to clean and maintain. The polyurethane coating provides its color, texture, and strength.
Leather Match (L/M)
L/M refers to leather-match, which is used to describe furniture pieces made from both actual leather and a synthetic material, such as vinyl. The term is used to describe upholstered products where portions of the furniture is real leather, but the back, sides, or less visible parts are an artificial material that is matched to look like real leather. Leather-match is significantly cheaper than a product upholstered entirely in actual leather.
Bonded Leather Match
This is a construction where some bonded leather is used in combination with synthetic materials. The purpose of the match is to reduce cost, while the use of bonded leather is to allow the term "leather" to be associated with what is essentially a plastic product. The product may be appropriate for certain applications but is not considered actual leather.
Faux Leather
Polyurethane (PU)
This is a very effective form of plastic that can be applied to fabric or other products to create beautiful and durable surfaces. Polyurethane is very versatile and can be used to replicate leather, suede, and number of materials. The product is safe if appropriate materials and dyes are used, and is recommended for applications that are price-sensitive and require a high degree of durability.
Vinyl
Similar to polyurethane, vinyl furniture is an affordable synthetic alternative. While UV fade resistant, vinyl is less durable and can crack over time. It is normally lower in cost than polyurethane, and is used in "match" applications where strength is not an issue.
Nubuck
This term has historically been associated with top-grain leather suede but is not a legal term. The term is sometimes applied to materials that mimic the look of suede. If the price is exceptionally low, it is likely not real leather.
Proprietary Terms
Makers of non-leather products and producers of finished upholstered product frequently develop their own proprietary terms to describe their product. Typically none of these names apply to real leather. The product is usually a bonded leather or a polyurethane product. The product itself may be appropriate, but customers should seek clarity as to what the product really is constructed of.
Leather Treatment Processes
There are a variety of terms used to describe the leather making process. It is important to understand that certain leather treatments offer different benefits that will appeal to certain consumer's needs. All natural leathers (full-grain and corrected-grain) are first dyed in an aniline dye solution to accentuate the natural beauty of the hide. The following guideline explains common processes used to treat leather:
Aniline Leather (A)
Aniline dying is the process of putting hides into a drum allowing the dye to soak completely through the hide. The dye is absorbed by the pores of the leather, which permeates the surface of the hide and combines with the fibers to form a compound. This process gives the hide color without covering its natural markings. Neither a protective coating or surface pigment color is applied, and this dyeing process is only suitable for the best full-grain leather. Aniline leather may be referred to as full aniline or pure aniline. Because it lacks a protective coating, full aniline is much softer than leathers treated with other finishes, and develops a natural patina over time.
Semi-Aniline Leather (AP)
Semi-aniline leather is produced through a very similar process to full aniline, but has a thin protective top coat added to protect it from wear and staining. Semi-aniline can be referred to as aniline plus pigments, or AP, due to the similar treat process of full aniline. After leather has been aniline dyed, a light top coating of highly dispersed pigment is applied to the top of semi-aniline leather to guarantee an even color on the hide's surface. Additional finishes, like embossing, may be applied further to the leather to create another effect, then is finished with a protective coating. For the most part, semi-aniline retains the natural beauty of aniline leather and offers modest protection.
Pigmented Leather
Pigmented leather is the most durable because it contains a polymer coating which contains pigments. It is created from hides not suitable for aniline or semi-aniline leathers. Pigmented leather is ideal for large households with children because of its resistance to scuffing and fading.
Leather Care
The type of leather and treatment process will affect how leather should be handled. Specific recommendations are made for different leathers.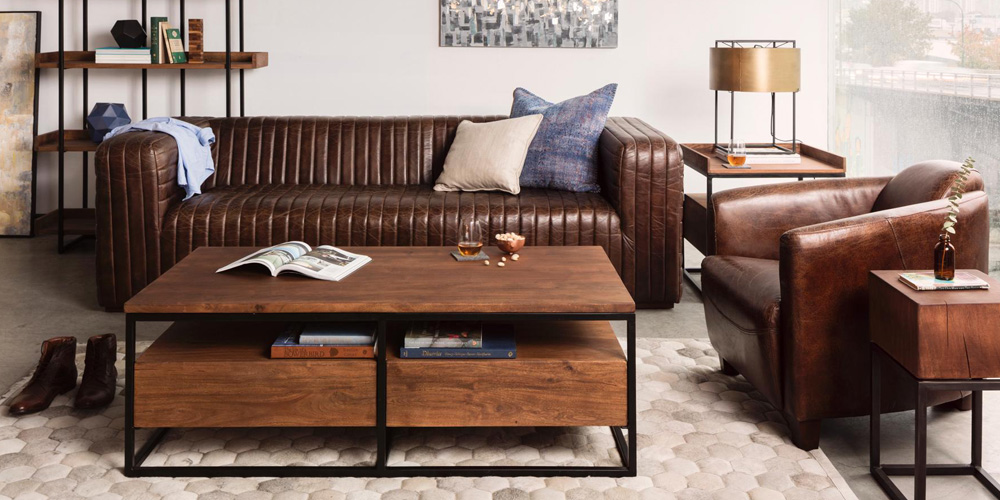 General
Avoid excess rubbing.

Keep a distance of 8-12 inches away from direct, concentrated heat.

A healthy humidity maintains your leather.

Dust should be removed regularly with a soft, damp cloth.

Do not use aggressive substances such as stain removers, cleaning solvents, turpentine, saddle soap, shoe/furniture polish, oils, varnish, or any type of chemical solution.

Use a leather conditioner every 6-12 months to keep it soft and supple. (Always test leather conditioners in a small, unnoticeable area before applying the product to the entire piece of furniture.)
Caring For Aniline Leather
Wipe excess liquid immediately with a clean, absorbent cloth.

Never use a hair dryer to dry a soiled area. Let it dry naturally.

If grease or oil gets on your sofa, use a clean, dry cloth to absorb the substance, then leave it alone. The spot should dissipate into the leather in a short period of time.

Do not apply water or try to wash oil or grease stains.
Caring For Protected Leather