Stow and organize electronic media with ease. Learn more about entertainment center sizes, placement, and types.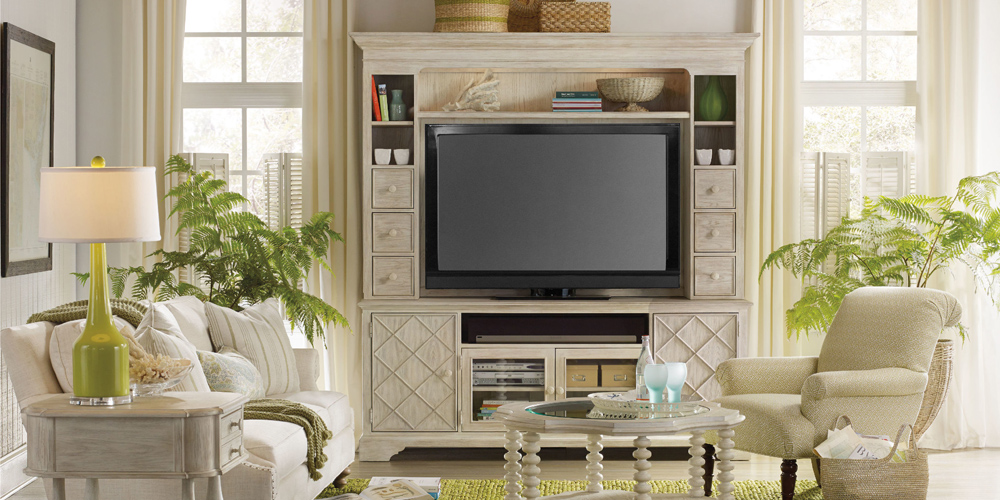 Entertainment centers are extremely functional pieces of furniture for the home. Entertainment furniture holds electronics and entertainment equipment including televisions, speakers, DVD players, and other electronic devices. Whether placed in a living room, bedroom, or game room, entertainment centers offer a great opportunity for storage and organization. Finding the right size entertainment center to store a television and entertainment equipment can prove difficult, but LuxeDecor outlines how to choose the properly sized piece and the different types of entertainment centers to consider.
Entertainment Center Sizes
Finding the appropriate media unit to suit both your needs and space can prove daunting, but following a principal guideline can help.
Measure Your Television
The most reliable way to ensure there is enough room to fit your television and electronics is to measure it.
Screen Size: The size of a television is based on the diagonal measurement from corner to corner of a television screen. Keep in mind that a 42-inch television is not necessarily 42 inches in width.

Frame Size: The size of the bezel (frame around the screen) will affect the measurement of your television. Measure around the screen, including television height (from stand to top of frame) and television width (from end of the television frame).

Depth: If your television is not a flat screen or plasma, measure the depth of your television to ensure that your television will fit properly within the unit. If the space is too shallow, the television will not properly be secured, and pose a potential safety hazard with overhang.
Allow for at least 2 inches of extra space in each direction to accommodate small measurement discrepancies or extra equipment. This ensures there is enough space within the television cavity for proper ventilation and installation cables.
Measure Your Room
Measure the dimensions of your floor space (including width and depth) to identify the available space for an entertainment unit or stand. These measurements will help determine the optimum viewing distance when watching your television. Allow enough open space for an enjoyable watching experience. The following guideline shows industry-standard recommendations for how far you should sit from a television, but aren't absolute rules.
Entertainment Unit Placement
Consider the layout of your space for optimum viewing.
Keep in mind sightlines. The lower half of the television screen should be level with your sight when seated. p

The shelf where the television rests should be no less than 12 inches below your measured sight line.

Be mindful of the location of cable connections and power outlets.

Ideally, televisions should not be placed in front of a window. Backlighting from the window will create glare which will make it difficult to see the screen.

Pair your entertainment unit with the largest seating in the room.
Entertainment Center Types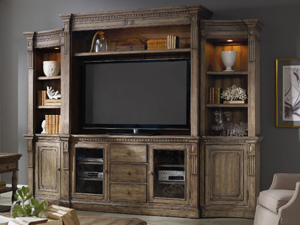 Entertainment Centers
Entertainment centers, or wall units, are large pieces of furniture that contain different sized open shelf units that can house a television and other large electronic devices. Entertainment centers can run as tall as 72 inches, and vary in width. An entertainment center is typically large and is intended as a centerpiece along a wall. Due to their size, entertainment centers are a more expensive option to house entertainment equipment, but are ideal to fill a space.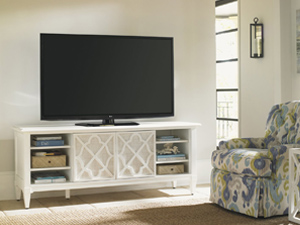 TV Stands
A TV stand, or TV console, generally consists of a long cabinet on which to place a television, and typically features storage underneath to store different media. Because it features an exposed tabletop surface, TV stands can hold most size televisions to balance on top. TV stands can also work for mounted flat screen televisions.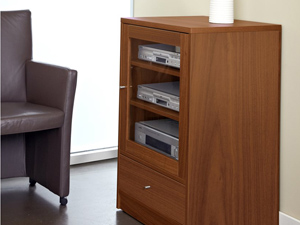 Media Cabinets
Media cabinets (and media chests) are typically smaller-scale, vertical units that can house a television and other electronic accessories. TV cabinets (TV armoires) can conceal a television within its cabinet doors, which make this option ideal for customers who don't want to display their entertainment systems. A media chest resembles a tall dresser and contains shelves for easy storage.