A dining table is an important investment that is a communal hub for entertaining and sharing meals. Learn more about sizes, arrangements, and styles.

A dining table can be used as a place for family meals, holiday parties, and milestone celebrations. This makes a dining table an important investment. In order to find the right dining table that will accomodate all your needs and fit your lifestyle, make sure you consider dining table shape, size, material, style, and features.
Dining Table Construction
Dining Table Shape
Round
Round tables are great for smaller spaces and conversation. Tables with a pedestal will create more legroom. Because it is round, sharp corners will never be a worry.
Square
Like round tables, square tables are better suited for smaller spaces. Leaves can easily be added to create a rectangular shape and add more seating space when needed.
Rectangle
As one of the most common dining table shapes, rectangular tables work well in long, narrow rooms.
Oval
Oval tables work well in long, narrow rooms. Its rounded corners take up less visual space compared to a rectangular table.
Dining Table Sizes


Dining Table Materials
Wood
A solid wood table, such as mahogany, oak, and maple, usually gives a warm, natural look with unique grain patterns. Wood can be long lasting if cared for correctly, however this material can be pricier compared to other tabletop options. A distressed finish gives off a warm, natural look with unique markings throughout.
Glass
A glass tabletop can give off a modern look and be easily cleaned.
Stone Marble
Stone marble tabletops can give off a luxurious look and can also be easily cleaned.
Dining Table Style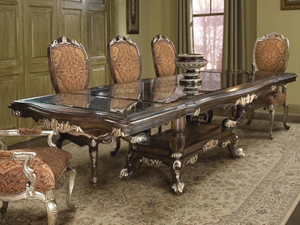 Traditional
One of the most common styles, traditional dining tables usually come with carved and detailed textures.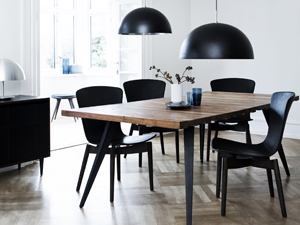 Modern
The modern style usually features clean lines and sharp angles.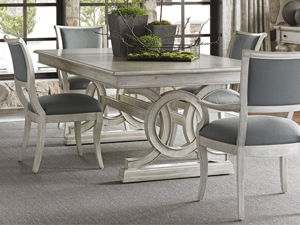 Rustic
Rustic style dining tables come in natural colors with hand carved detailings.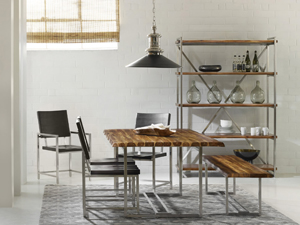 Industrial
Strong wood material paired with a metal base gives off the look and feel of factory machinery.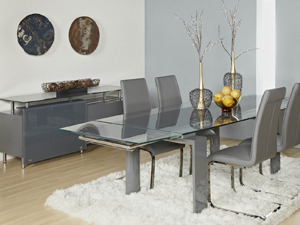 Contemporary
Contemporary dining tables come in a variety of looks with an endless combination of shapes and materials.
Dining Table Features
Removable Leaf
If your room has limited space, consider getting a table with a removable leaf. It can expand the table and add space when needed.
Drop Leaf
Drop leaf tables can also expand the table size when needed, however it is permanently attached to the table and can be easily folded up or down. This is a great alternative to the removable leaf if you do not have a place to store a removable leaf.
Lazy Susan
Useful for large round tables, lazy susans can be added to make it easier to reach for items in the middle of a table.
Dining Table Care
Wood
Use coasters and trivets to prevent water rings and spills. Wipe away any spilled liquid as soon as possible with a dry soft cloth. Maintain a consistent humidity level in order to prevent to wood from contracting and expanding or eventually becoming warped.
Glass
Do not drag rough or sharp objects over glass in order to avoid scratches. Use coasters and trivets to avoid water rings.
Marble
Clean spills immediately because marble can quickly absorb spills due to its porous nature. Avoid using abrasive cleaners on a stone marble tabletop.
If you're ready to shop, browse LuxeDecor's stunning selection of dining tables here.