Accent chairs can appear in bedrooms, living rooms, foyers, and other spaces throughout the home. Learn more about accent chair construction, features, and styles.
Accent chairs are an easy way to add a pop of color and extra seating to any room. With so many options in size, color, materials, and styles to choose from, you're sure to find the perfect chair to complete any furniture arrangement.
Accent Chair Material
Taffeta
Usually made from synthetic fibers, taffeta is a hard wearing material that is usually very stiff due to its thick, tight weave. It can be very durable if made with silk fibers. Taffeta is generally expensive.
Damask
Damask is a combination of many different fibers woven together. It is soft to the touch with a nice sheen.
Cotton
Heavy cotton made with a strong, tight weave is a popular upholstery choice for accent chairs. Cotton is a very versatile material, but can stain easily and is prone to wrinkles.
Linen
Linen is a tough and long lasting upholstery fabric choice, but it is also relatively difficult to clean. Like cotton, linen is also prone to wrinkles.
Wool
Wool is a natural fabric that is water, stain, and fire repellant. Wool is a heat-retaining upholstery fabric, and can easily be damaged by insects if not cared for correctly.
Leather
Usually made with cow skin or other animal hides, leather chairs must be cared cleaned regularly to maintain their quality and appearance.
Faux Leather
A synthetic fabric made to look like leather, faux leather is a less expensive and cruelty-free alternative to real leather. Faux leather is much lower maintenance than genuine leather.
Silk
Silk is a strong, natural fiber. However, it can stain easily and show wear quickly if not taken care of correctly.
Chenille
Chenille is a woven fabric that is soft to the touch but not especially durable.
Velvet
Velvet is a soft, luxurious fabric that is very durable but can stain quite easily.
Accent Chair Style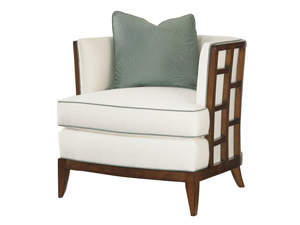 Club Chair
Club chairs are usually large, upholstered arm chairs with extra deep seating.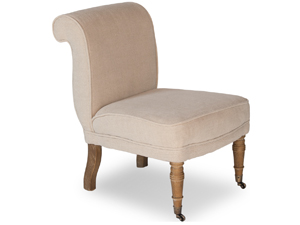 Slipper Chair
Armless, upholstered chairs with seating closer to the ground.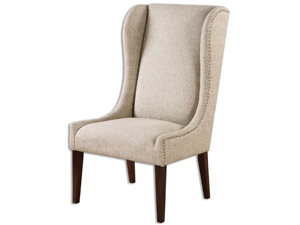 Wingback Chair
A chair with a tall back and winged sides.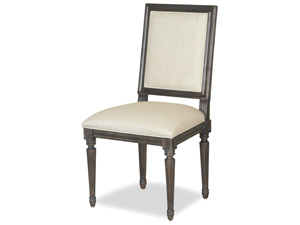 Bergère
An armchair with an upholstered seat and back with a wooden frame and a loose seat cushion.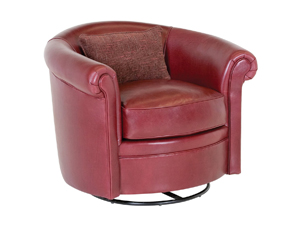 Swivel Chair
Swivel chairs are similar to the style of club chairs with the addition of a rotating base. Depending on the chair, some swivel chairs may have an exposed pedestal or base.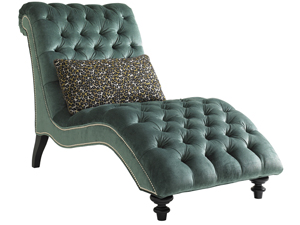 Chaise Lounge
Chaise lounges often have wooden frames with turned legs and a long, flat sitting surface.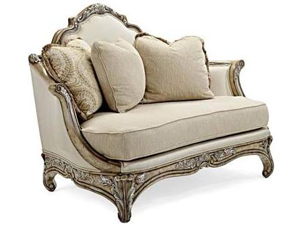 Chair and a Half
A chair and a half is smaller than a loveseat but larger than a standard-size accent chair. A chair and a half can be a suitable seating option in small spaces.
Accent Chair Care
Vacuum routinely

Use a lint roller to remove any pet hair

Use a slipcover to protect the chair fabric

Always follow manufacturer's directions for care and maintenance